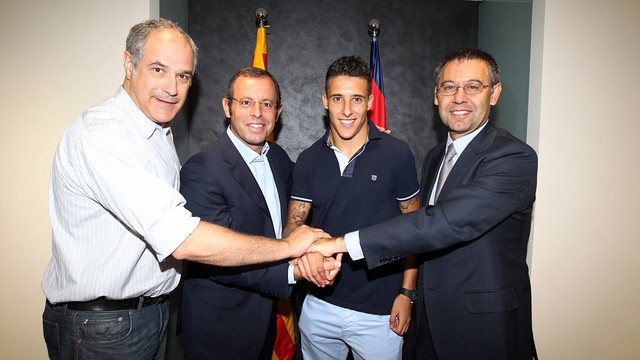 The player's contract has been extended until the end of the 2017/18 season
The buyout clause has been set at 25 million euros

Cristian Tello has signed a new contract with Barça which keeps him at the club until the end of the 2017/18 season. His buyout clause will now be 25 million euros. He signed the new document on Friday morning in the club offices where he was joined by president Sandro Rosell, vice-president Josep Maria Bartomeu, director of football Andoni Zubizarreta and his agent Josep Maria Orobitg.
Hoping for more
After signing, he exchanged some words with Barça TV and fcbarcelona.cat. "I'm very happy to have renewed" he said. "It's a dream to be able to stay for so many more years at this club. I hope things remain as good as they are and that I can get to play … I'll be taking all the chances the boss gives me and trying to do my best."
On the start to the season, Tello commented that "it is always nice to start with a trophy … The team is playing well. We're strong and know what a tough season we have ahead of us."
He played in 34 first team games last season, scoring eight goals. This season, he has featured in the 7-0 win over Levante. The striker was officially promoted into the first team last December.
Tello follows on from Sergio Busquets, who also signed a new contract on Tuesday, also until the end of the 2017/18 season, with the option to one season more.