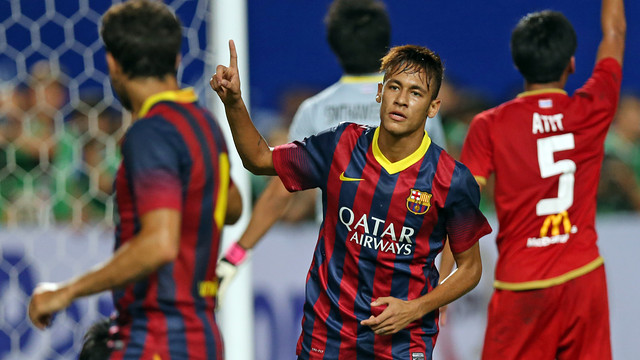 Barça has come to the end of the pre-season friendlies with four wins in six matches and with Messi as top scorer
Barça played their sixth and final match of the pre-season on Saturday 10th August in Malaysia, eight days before the league campaign kicks off against Levante. Since the opening game of the pre-season on 24th July in Munich, Barça has accumulated 4 wins, 1 draw and 1 defeat, scoring 27 goals and conceding 6.
Twelve players were available for the first training session on 15th July. Those players involved in the Confederations Cup joined the initial group on 29th and made their debuts in the Joan Gamper Trophy, except for Neymar who had made his first appearance in Poland.
The only defeat was in the opening game against Bayern (2-0). The team went on to crush Valerenga in Oslo (0-7) and to draw in Gdansk (2-2). Then with Tata Martino at the helm, they produced their finest performance of the summer in the Gamper against Santos (8-0). Finally, the tour of Asia produced wins against XI's from Thailand (1-7) and Malaysia (1-3).
Messi top scorer
The top scorer of the summer was Leo Messi, with 5 goals. Unlike previous seasons, the Argentine international was able to start training right from the beginning and looks to be fully recovered from the injury that kept him out of action at the end of last season. He scored five goals in five games, missing out on the final game in Malaysia due to a thigh strain.
Among the other top scorers were Pedro (4), Alexis (3), Dongou (3) and Neymar (2).
Neymar shines
The 2013/14 pre-season saw Neymar da Silva in action for the first time since he joined Barça. He made his debut on Wednesday 31st July in the 79th minute of the friendly in Gdansk. He played for 45 minutes in the Gamper and scored his first Barça goal in Thailand. In the last game in Malaysia, Neymar scored a superb goal after leaving his marker flatfooted and slotting the ball into the net with his left foot.
Dongou and Bagnack, two finds
The great revelations of the summer were Jean Marie Dongou and Frank Bagnack. The two 18-year-olds from Cameroon began training with the first team along with nine other players from the reserve squad. Their excellent work in attack and at the heart of the defence respectively prompted the coaching staff to include them in the tour of Asia.
Injuries the negative news
However, as often happens at this stage, a number of players – including Tello, Dos Santos, Pedro, Pinto and Messi – have had injury problems. In the final game, Cesc Fàbregas also picked up a knock on his right ankle. Meanwhile, Puyol, Afellay and Cuenca have yet to resume training with the rest of the squad.