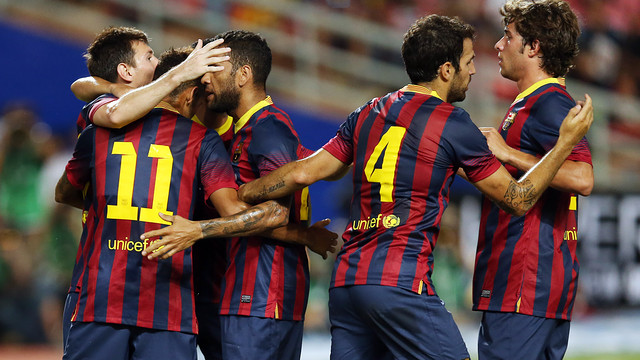 The team hit the target 27 times in the six preseason friendlies
With official competition about to get under way, Barça are clearly not finding goals hard to come by
With the first league game just a few days away, Barça are certainly finding the net under Tata Martino. The 27 goals in six games, making an average of 4.5 a match, is the club's best preseason record for a decade. It all comes as a huge improvement on the opening game against Bayern Munich at the Allianz Arena, where the Catalans failed to score.
Leo Messi leads the way
Of the 27 goals scored from Barcelona to Malaysia, Leo Messi claimed five. That made him the top scorer of the first preseason for years that he played from start to finish due to Argentina not playing in any major competitions. Second on the list was Pedro Rodríguez with four, three of which came in the same game against Thailand.
Apart from Messi and Pedro, one of the other successes was Neymar, the biggest new addition to Barça 2013/14. He scored in both the games played in Asia, needing just 70 minutes to find the target for his new team. Another of the main protagonists was a Barça B player, Dongou, who scored three goals for the first team.
Best of the decade
Despite the setbacks that affected the preseason plans, under new manager Tata Martino, Barça have scored more goals than they have done in any other preseason for a decade. The 4.5 average beats the tally of 2008/09, when Barça got 26 goals in six games against sides of the calibre of Tottenham and Manchester City.
With more and more official games to play, Barça's preseasons are usually much shorter these days. In 2004/05, the team played 13 matches and scored 35 goals, an average of 2.7 a match. 2011/12 was also a busy schedule, with nine preseason friendlies under Pep Guardiola against some top quality sides, including Internacional de Porto Alegre and Bayern Munich in the Audi Cup, and also Manchester United.
Lowest scoring years
There have been some preparatory campaigns in which Barça's goalscoring has left something to be desired. We only have to go back to 2011/12 for an example when they only scored 18 goals in nine matches. The massive upturn this summer augurs well for the league season that is about to get under way, with Barça's goalscoring potential looking very strong indeed.