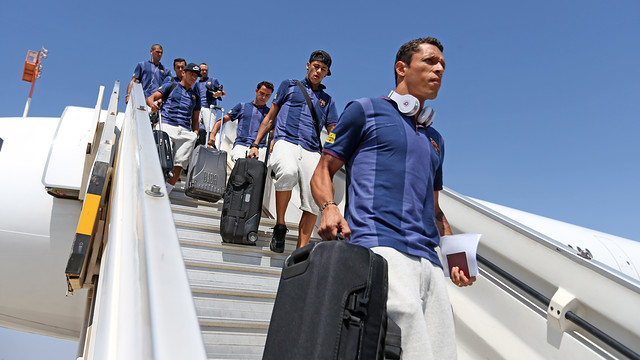 The Barça squad has arrived in Kuala Lumpur at around 14.45 (local time) after a two-hour flight
In the afternoon, Messi and Cesc will be giving a press conference and the team will train behind closed doors
Feeling great after winning 7-1 in Bangkok, Tata Martino and his side now have three days in Malaysia before returning to Barcelona.
In Kuala Lumpur, the capital of the country on the coast of the Malaya Peninsula, Barça have a friendly on Saturday against a local combination. It's the first time that FC Barcelona have ever visited the country.
The flight from Bangkok took two hours, but the players had to spend an extra hour and a half on board the plane before it took off.
The delay means today's schedule is going to be especially tight. Leo Messi and Cesc Fàbregas will be speaking to the press in the One World Hotel. After that, the full squad will be going to the Shah Alam Stadium for a training session behind closed doors.