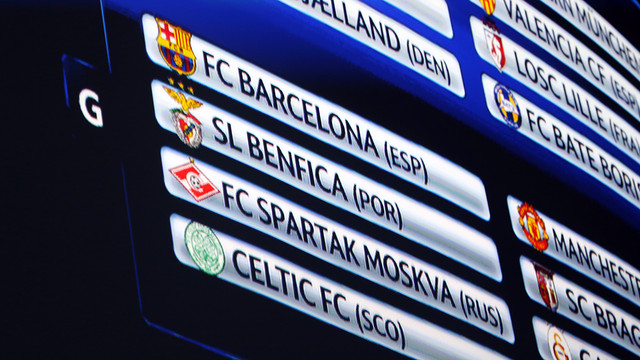 The ten sides that came through qualifying will join the 22 automatic qualifiers in Thursday's draw
Arsenal, Austria Vienna, Basel, Steaua Bucharest, Schalke 04, Zenit, AC Milan, Real Sociedad, Victoria Pilzen and Celtic qualfied this week
Four seeding pots
Pot 1
FC Barcelona
Real Madrid
Bayern Munich
Chelsea
Manchester United
Arsenal
Porto
Benfica
Pot 2
Atlético Madrid
Shakhtar Donetsk
AC Milan
Juventus
Paris Saint-Germain
Olympique Marseille
CSKA Moscow
Schalke 04
Pot 3
Zenit
Manchester City
Ajax
Borussia Dortmund
Basel
Olympiakos
Galatasaray
Bayer Leverkusen
Pot 4
Copenhagen
Napoli
Anderlecht
Viktoria Plzen
Celtic Glasgow
Real Sociedad
Steaua Bucharest
Austria Vienna
We now know which 32 teams will be going into Thursday's draw for the Champions League group stage. And we also know which of these could be placed in the same group as Barça in a round that gets under way on September 17. There were 22 direct qualifiers for the tournament, while a further ten have successfully navigated the qualifying rounds. All will be revealed this evening at 18.00 in Monaco.
Late arrivals
This week, the second legs were played of the ten matches in the final round of qualifying, and the late qualifiers include some big names, such as the Premiership's Arsenal and AC Milan from Serie A, as well as a team that has frequently crossed paths with FC Barcelona in recent editions, Glasgow Celtic.
The qualifiers also include La Liga's Real Sociedad, who are back in the final stages after a ten-year absence. Jagoba Arrasate's side qualified with surprisingly ease against one of the tournament's classic sides, Olympique Lyon.
The other six teams joining the direct qualifiers are Austria Vienna, who are playing in the group stages for the first time ever, and Basel, Steaua Bucharest, Schalke 04, Zenit Saint Petersburg and Victoria Pilzen.
Liga teams separated
In accordance with Champions League rules, teams from the same domestic championship cannot play each other until the quarter finals. Therefore, Barça cannot be drawn in the same group as any of Real Madrid, Atletico Madrid or Real Sociedad.
And as Barça are included in the top bracket of seeding, they cannot play any of the other seven top seeded teams, namely Real Madrid, who they couldn't play anyway due to the two belonging to same national federation, champions Bayern Munich, Chelsea, Manchester United, Arsenal, Porto and Benfica.
That means Barça will benefit from not having to face some of the strongest teams in the competition, but nevertheless could face some fearsome rivals, including Juventus, Paris Saint-Germain, Manchester City and last year's finalists Borussia Dortmund.