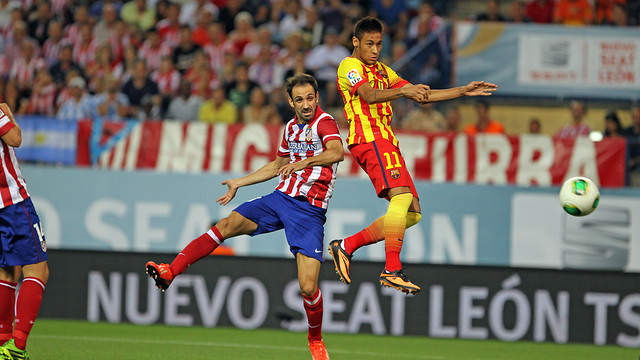 Martino's men come away with a one-all draw from the Calderón in the first leg of the Spanish Super Cup
Just as Tata Martino predicted in the pre-match press conference on Tuesday, the tie between FC Barcelona and Atlético Madrid will be decided at the Camp Nou. Barça, fettered from the start and unchained at the end, deserved more against Atlético, but scoring an all-important away goal in a two-leg tie is never a bad result. The home team, who took the lead after 12 minutes thanks to a superb strike from Villa, took control of the game early on but loosened their grip as minutes ticked off the clock. A champion will be crowned on Wednesday, August 28, when the two sides meet at the Camp Nou for the return leg of the Super Cup.
Villa hits first
It wasn't Barça's best first half. The reigning champions of the Cup came out of the gate swinging and were relentless with their pressure on Barça's back line. The Blaugrana were struggling to play out from the back and it took them nearly 10 minutes to create their first chance of the night. Aggressive, intense and comfortable without possession, Atlético played to one of its greatest strengths, the counterattack.
That's how the first goal of the night was scored. Villa initiated the counter and linked-up with Arda Turan, who thundered down the left wing before crossing the ball back into the area to the former Barça player. Villa one-timed the ball with a well timed volley from just inside the area, there wasn't much Valdés could do. After the goal, however, Atlético didn't threaten to increase their lead, but Barça seemed incapable of equalising. The web cast by the Colchoneros nullified Messi, Alexis and Pedro. Only Alves, from the right, managed to break through Atlético's pressure but his crosses didn't find their intended targets.
Neymar equalises
Without Messi, who was brought off at the break due to thigh issues, but with Neymar, who was subbed in on 58 minutes, and Cesc, who came on for the Argentinian, Barça regained a little of its incisiveness. The first Barça player to test Courtois was Alexis, and only eight minutes after being brought on, Neymar scored to bring Barça level, his first official goal in the FC Barcelona strip.
Direct Play
The flow of play was hectic in the final 15 minutes of the match. Atlético, comfortable but tired, did their best to lock up the match. Barça, with Cesc and Neymar leading the way, looked to score the match winner, but it never came. On Wednesday, August 20, the two teams will meet at the Camp Nou for the second leg of the Super Cup, the first title of the season.