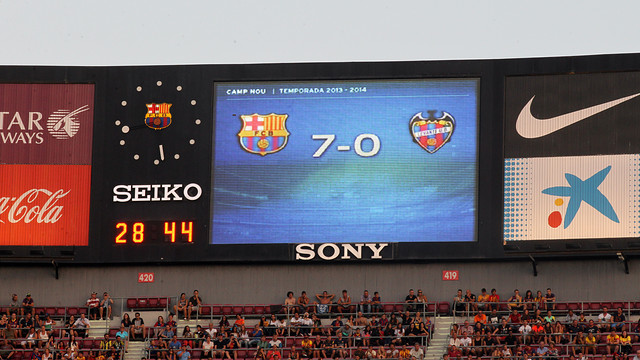 The 7-0 win on Sunday was the best ever official debut for a Barça manager
Barça hadn't scored such an early goal in La Liga since 1986, when Lineker scored in the 2nd minute

The 7-0 win against Levante, and the 6-0 scoreline at half-time, have set a number of new records, which we review here:
• The 7-0 win over Levante was the biggest win on the first weekend of Liga football since 1955.
• The best league debuts for Barça managers have been: Tata Martino (7-0 in 2013), Ferdinand Daucik (8-2 in 1950) and Joaquim Rifé (6-0 in 1979).
• Alexis scored the first Barça goal of the 2013/14 championship. Puyol (12/13), Thiago (11/12), Messi (10/11), Bojan (09/10) and Messi (08/09) opened the scoring in the previous seasons.
• Not since 1986 (Lineker) have Barça scored their first Liga goal so soon (2nd minute).
• Not since 2008 (against Almeria) have Barça led a Liga game 4-0 after 24 minutes.
• Not since 2001 have Barça been winning 6-0 at the break (against Athletic Bilbao).
• Previous 6-0 leads for Barça at half time in La Liga: four at home (Las Palmas 1959, Racing 1962, Athletic Bilbao 2001 and Levante 2013) and one away (Real Sociedad 2000).
• The last time any side other than Barça has led 6-0 at half-time was Athletic Bilbao over Sporting Gijon, way back in 1958.
• No side managed by Joaquín Caparrós had ever conceded seven goals before.