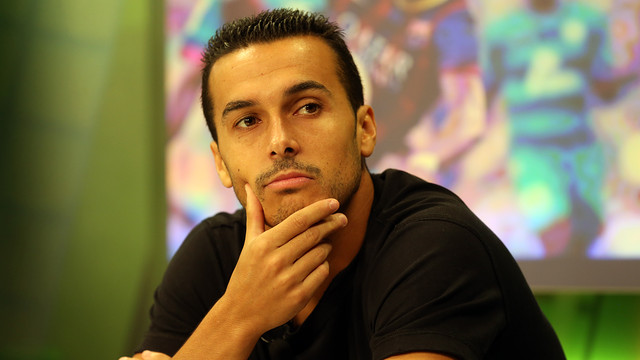 The Canary Islander, who scored two of Barça's seven goals against Levante, was the guest on 'El Marcador' on Barça TV
He described the win as "the best way to start, and even more so at home"

Pedro Rodríguez was one of the stars of Barça's 7-0 win over Levante. In Tata Martino's first official game in charge of the first team, he scored twice, and said afterwards that "scoring goals gives you confidence … That was the best start we could have hoped for, and even more so at home. We played well and we know that's the right way to do things".
Creating chances
Barça created an extraordinary amount of pressure on the Levante defence, who struggled to keep hold of the ball. In that respect, Tata Martino has been having an impact on the way they play. "His training sessions are tough and that's good for us" said Pedro. "We're feeling comfortable on the field and with each other … We are working on our physical game and the creation of pressure that we might have lost. But it's generally much the same style as ever … The key is still to create a lot of chances".
Step by step
But despite the amazing start to Barça 2013/14, the Canary Islander would rather calm the euphoria. "It is far too early to start making conclusions about the league title" he said. "Of course we and Real Madrid are strong sides, but we can't get over confident. Each opponent is different."
Finally, on the new signing who made his Liga debut in the 62nd minute, Pedro commented that "Neymar is adapting well. He is in very good condition and I'm sure he'll do a lot for this team".