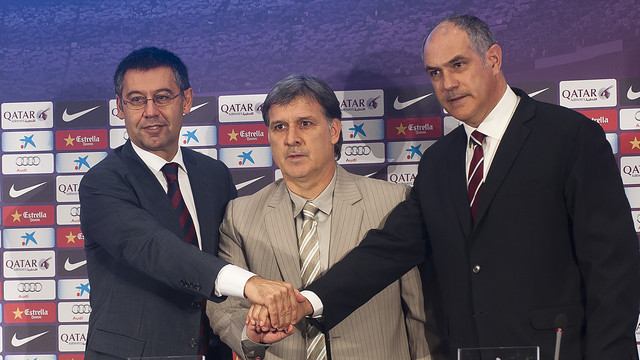 The FC Barcelona director of sport is convinced that Gerardo Martino will adapt perfectly to the club, and that he was the best option they had
"We signed him very quickly. Zubizarreta's proposal was totally accepted by the board", said vice president Bartomeu
Cesc no es ven
"It is normal for Manchester United to show interest in Cesc because he's a great player, but whatever offers we get, he's staying. He's not for sale", insisted Bartomeu, reiterating what Martino had to say on the same topic. On other matters of current concern, Zubizarreta explained that he wanted to speak to all of the people involved before deciding on the exact structure of the new coaching staff, and as for transfers, there is still plenty of time to think hard about the best options.
Andoni Zubizarreta and Josep M. Bartomeu joined Gerardo Martino at his presentation to the press and explained why they chose to sign him. "Some ten days ago, last Tuesday, Sandro Rosell told me about the situation with Tito Vilanova's health," said the director of football. "After getting over the initial shock, we started looking at possible options and one the names that came up was that of Gerardo Martino. We wanted a manager who can develop Barça's idea of football, because our ideas are not there to be debated, they are there to evolve … Football grows out of mixing, combining and doing things together. And throughout this process, Tata was listening and giving his own views. Finally, with these ideas in mind, we came to the conclusion that he was the best option".
Having decided on a new manager, Josep M. Bartomeu explained how the negotiations went. "We signed him very quickly. Zubizarreta's proposal was totally accepted by the board. We are very excited about our new manager … We know what experience he has and how he works, especially with the Paraguay national team. We did know that Martino has never coached in Europe, but after listening to Zubizarreta and speaking to him on the phone, we were convinced. We speak the same football language."
Tough decision
Zubizarreta added that "we put different options on the table and discussed the pros and cons. Our meeting with the president and vice president for sport was relatively short. But on a personal level, all of the preliminary evaluations felt like an eternity because I kept picturing Tito." The director of sport wished to make it clear that that "Leo Messi had nothing to do with the selection of Tata Martino", and explained how hard it had been to cope with the emotional factors involved in finding someone to take the place of Vilanova. "We were in the kind of situation where there was no longer a plan B." Both Bartomeu and Zubizarreta ended with some words in honour of the now former FCB manager, as well as expressing their profound sympathy for the victims of the train accident in Santiago.