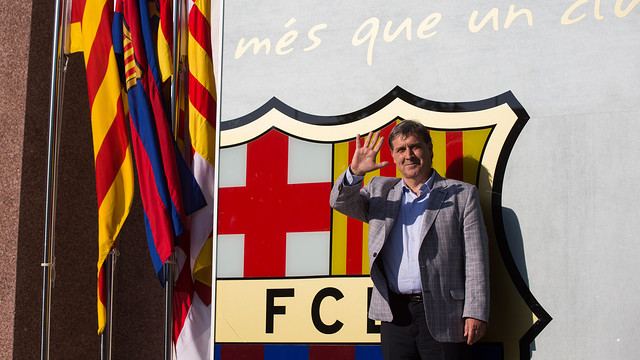 His flight landed at 17.20 in terminal 1 of El Prat Airport
Andoni Zubizarreta was there to welcome him and escort him to the Camp Nou
At about 19.00 he posed for photographs in front of the Club crest, and on Friday he will be presented as FC Barcelona's new manager
Gerardo 'Tata' Martino is in Barcelona. The flight bringing the new manager from Argentina landed at 17.20 in terminal 1 of El Prat Airport, where director of football Andoni Zubizarreta was waiting to accompany him to the Camp Nou.
The press … and Newell's fans
Once at the Camp Nou, Martino greeted Club employees and then made his way to the Club crest located outside the Club offices, where about 50 photographers were waiting to get shots of the new manager.
In addition to the photographers, a large group of Newell's Old Boys fans were waiting to see and congratulate their team's ex-manager. After the photo shoot, Martino returned to the Club offices and met with Andoni Zubizarreta.
Friday presentation
At around 18.30 he will be appearing for photographs in front of the crest outside the club offices. Gerardo Martino, who will sign a two-year contract with FC Barcelona, will be officially presented on Friday at 13.00 at a press conference in the Auditori 1899.