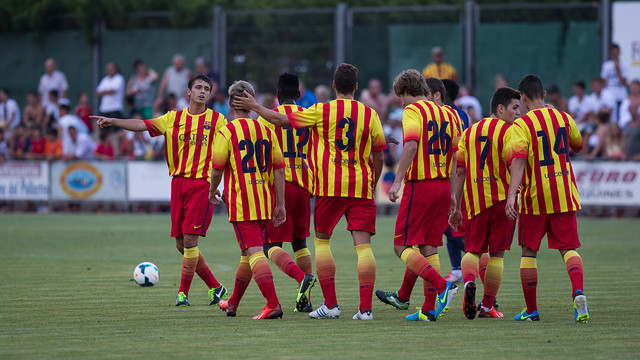 Two goals from Joan Román in the first half gave the win to Eusebio's team against l'Escala
20 Barça B players participated in the first match of the preseason. The game was suspended after 74 minutes due to inclement weather
11 players train with the first team
After the match against l'Escala, Eusebio announced the names of the 11 Barça B players who will train with the first team on Wednesday. They are Ilie, Planas, Gómez, Joan Román, Kiko, Espinosa, Patric, Dongou, Nieto, Quintillà and Samper.
Barça B were victorious in their first match of the preseason. The team managed by Eusebio Sacristán defeated l'Escala by 2-0 in a match that was suspended after 74 minutes due to inclement weather. In the first half, two goals from Joan Román fired the Blaugrana ahead, and up to 20 players featured for Barça B before the game was called off.
Joan Román nets a brace
Eusebio named Masip, Gómez, Planas, Joan Román, Bagnack, Samper, Babunski, Ayala, Quintillà, Miguel Maza and Dani Nieto to his starting line-up. The Balugrana, who donned the away kit, scored at the beginning of the match and near the end of the first half. The first goal came thanks to a powerful shot from inside the area and the second was scored after a good cross from the left from Miguel Maza.
Nine substitutions at the break
Eusebio made up to nine substitutions after the first half. Bañuz, Partic, Robert Costa, Gafarot, Ilie, Calvet, Espinosa, Dongou and Kiko were sent on; only Bagnack and Miguel Maza remained from the initial team from the first half. Barça B continued to dominate in the second half and they could have scored a third through Kiko, but the player's shot was off target.
The end of the game was atypical. A deluge of torrential rain poured down on the players, which forced the referee to suspend the match on 74 minutes. Despite the weather, Barça B showed that they are on the right track after four days of training.