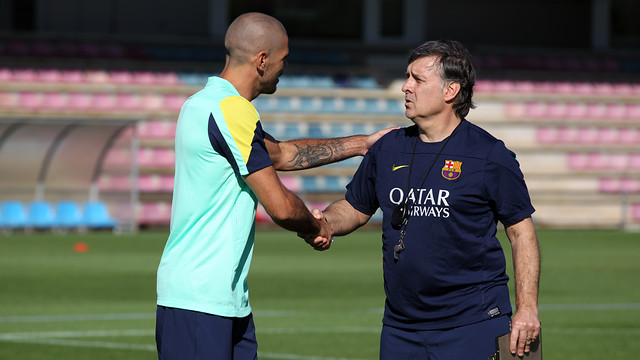 After meeting the new coach Valdes explained "he's excited and easy to get on with".
Valdes admitted that Neymar had impressed him at the Confederations Cup and is hoping that he and Messi will form a lethal attacking duo
In his first day back after the summer break and at the presentation of his new gloves, Victor Valdes spoke about his new coach Tata Martino: "we had a chat and from the short time I've seen him, I can see that he's easy to get on with – as are his assistants. He's very excited about what is a big project. He wants to put his personal stamp and ensure we don't tire of winning. He's a very positive signing for the team".
Valdes also had words for Tito Vilanova: "It was a piece of news we didn't want to hear. We knew about his illness and that he'd come through some very tough times. It's a terrible, terrible thing and a real blow. We just told him to get well and win this match for himself, which we are convinced he will do".
A special year
Looking forward to the coming season, Valdés admitted it was set to be very different for him: "it's a really special season for me, my last at the Club. On a personal level I am very focussed, just like at the start of other seasons, trying to improve, get better and give everything I can for the Club – like I always have done".
He'll be playing out the season alongside new signing Neymar and Valdes admitted that at the Confederations Cup: "he impressed me – he's a spectacular player". Like many Bará fans he's also looking forward to seeing the Brazilian alongside Messi, explaining: " the big stars adapt well to playing together. I can only see positive things from the two of them together, for what they will give us, the way they are and the way they play".
We had a chat with the boss and I can see that he's easy to get on with – as are his assistants.