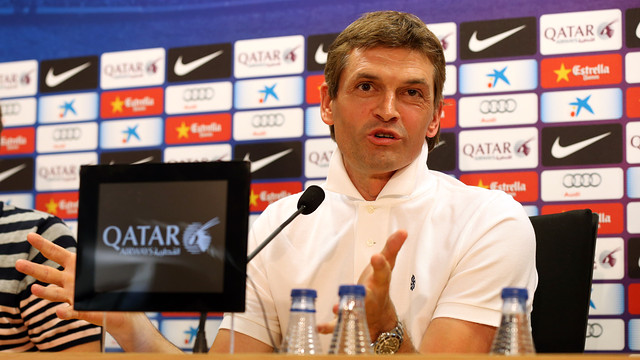 "Messi has come back in spectacular form. He has had more rest than in other years", says the FCB manager
The manager insists that they need a centre back, but refuses to accept that Thiago Silva is the only option
"I only people to think about 'Barcelonism' and to forget about other 'isms', because they only serve to divide us", he commented

Tito Vilanova spoke to the media on Tuesday in his first press conference of the 2013/14 season, after taking the first training session with the 12 players he has available. "They are all very keen and did very well. There weren't many players but the ones that were playing in competitions will be joining us soon. It will be much nicer to see things when the whole team is back", he said, adding that "Messi has come back in spectacular form. He has had more rest than in other years. Playing games over the summer hasn't affected him because he's had enough rest and he looked fine to me".
Great new signing
He also spoke about the arrival of Neymar, saying that he is "very, very happy to have him here with us. Will he have an understanding with Messi? They are two great players. One is the best player in the world, ever, and now we are adding another great player. It won't be a problem for them to understand each other on the pitch … As teams will now have to keep an eye on one of the two players, the other will get more freedom", said the Barça manager on the idea of playing them both together, something he's very optimistic about. "They are two great players, it'll be perfect" he concluded.
As for any other signings, Tito Vilanova admitted the Brazilian centre back Thiago Silva is "a player we have been wanting to sign for years. But if it's not him, there are others who could come. The idea is to bring in a centre back." He suggested that other than a player for that position, there is no immediate need to sign anyone else.
All the best to Thiago
He did admit to a certain sorrow at losing Thiago Alcántara, "because I have a lot of appreciation for him. I asked him to stay. He knew what he was competing against, and whenever he was fit, he always played. But a player can play wherever he wants, and I wish him all the luck in the world, he deserves it".
Tito Vilanova also spoke about another midfielder, and one he knows was especially desperate to be a success at Barça. That player is Cesc, and Tito confessed that offers have indeed come in for the Catalan, "but he wants to stay here because he wants to triumph here. Fàbregas knows he's got competition. But he always wanted to triumph here and I'm not worried about it."
Relations with Guardiola
Tito Vilanova also spoke about his relationship with Guardiola while the two of them were in New York. He said that they did see each other on his first trip to the USA, for his operation, but not the second time, when he was there for almost two months. "I didn't need to see him at that time", he explained, before denying that the Board had used his illness to have a go at Guardiola. He described it as a 'private' issue on which he was only willing to comment because a few days ago the former Barça manager had referred to the matter in a press conference at his new club, Bayern Munich. Said Vilanova, "I don't think people are interested in hearing about these things. Pep made a mistake and I have to say it took me rather by surprise because I don't think they were using my illness to attack him."