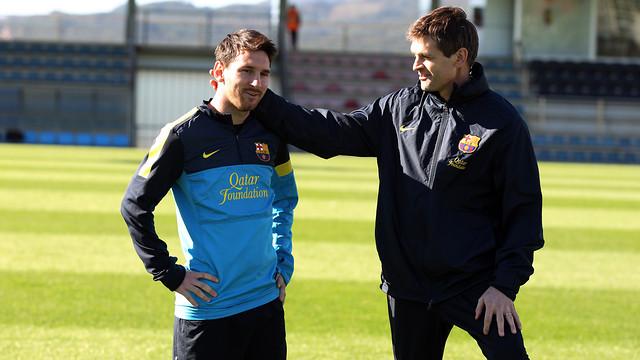 FC Barcelona have enjoyed a year of league records with Tito in charge.
Under Tito Vilanova, the team set a new scoring record and enjoyed the best ever first half to a season
Tito Vilanova has stepped down as Barça coach after 400 days in the post. During his year in charge, FC Barcelona have maintained their dominance and enjoyed an unforgettable Spanish League season, reaching 100 points. Tito deserves so much praise for the job he and his coaching staff did to keep the level of the team at the same high point following the departure of Guardiola in the summer of 2012.It has been a great sporting victory for him.
Awesome league record
After the announcement that he would be taking over on April 27th and his presentation on June 15th , Tito Vilanova modestly claimed that he would never be able to match comparisons with the previous few successful seasons, but that wasn't so, as the team reached the semi finals of both the Spanish Cup and Champions League, as well as putting in an awesome league campaign.
The Club's 22nd league title – the league of Tito and Abidal – will always be remembered for the 100 points, the 115 goals, the best ever first half of a season – 55 from a possible 57 points – and the maximum difference between first and second place. It's not just the stats that'll ensure the season is remembered though – it's also for the fantastic style of football that has thrilled fans all over the world.
Constant fight
Unfortunately, Tito Vilanova hasn't always been able to enjoy the team's successes. In December 2012 a worsening of his condition meant he was unable to be at the Valladolid game and he then also missed the team's games in February and March when he went to New York for treatment. Even though he was unable to watch the team in person, he was running things from New York, in constant contact with his coaching staff.
Tito Vilanova was first operated on for his illness in November 2011, the day on which Barça were due to travel to Milan for a Champions League game and since then he has fought the disease for more than two and a half years until the announcement of his departure on Friday.
Vilanova leaves after six years as a coach at the Club, during which time he oversaw promotion to the second division for Barça B and 15 titles with the first team. Memories that will stay with the Barça fans for ever.