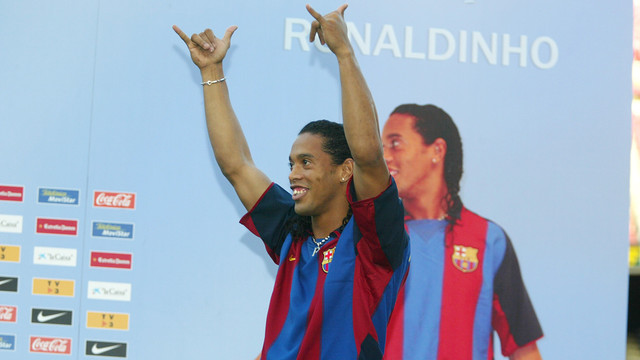 On July 21st 2003, the Brazilian was officially presented in front of 25,000 fans at the Camp Nou
Ronnie turned the previous four grey years into a gloriously entertaining period that laid the foundations for a wonderful future.
Sunday marks the tenth anniversary of the arrival at the Camp Nou of one of the most important players in the Club's history. Ronaldinho had been signed from París Saint Germain and was already recognised as one of the most promising players in the international game. His presentation was held in front of 25,000 fans at the Camp Nou – a number which was anything but usual at that time.
Four lean years
Ronaldinho came to a Barça side who had gone four seasons without a trophy and indeed in the 2002/03 season they needed a result in the last game of the season to ensure sixth place and a UEFA spot. With Ronaldinho, his magic style and his infectious smile, the team put an end to four grey years and brought a spark of excitement the side had sorely needed. In his first game at the Camp Nou, he scored a brilliant game against Seville which was to set the tone for a season of brilliant, astonishing football.
First steps to glory
The results began to match the spectacular football as the season went on and from January 2004, led by Ronaldinho, they put together a superb run that took them up to second place in the league. The following summer the team was strengthened with players such as Eto'o and Deco and they began a triumphal era that was to bring them two Spanish League titles and a Champions League win in Paris. The story of the team had changed and the smiling Brazilian had played a vital part in that transformation.