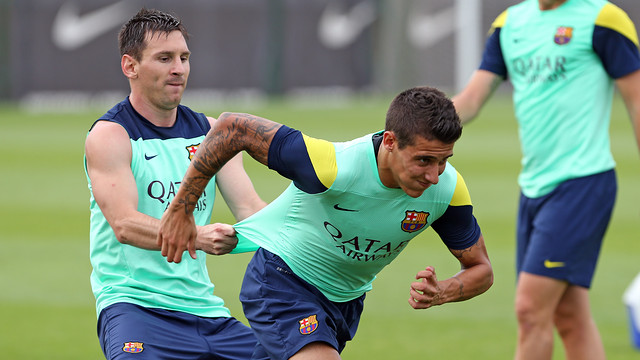 The Catalan winger has explained that he doesn't want to listen to other club's offers and that his negotiations to extend his contract "are going well".
After Messi and Montoya's press conferences earlier this week, today it was the turn of Cristian Tello to face the media in the press room at the Ciutat Esportiva. The Catalan winger explained that he was keen to stay at the Club, revealing: "my agent is talking with the Club and things are going well with the negotiations. I'd love to stay here and make a success of things. I'm not interested in listening to other teams' offers and I told my agent that I want to stay here as long as possible".
"I like the challenge"
The 22-year-old reckons he's got the experience to fight for a place in the first team: "I'm learning more every season. Competition is hard, but I like the challenge. I am well aware that I am in the best team in the world and with the best players in the world in my position. Every season I am looking to play more games and with hard work, I hope to achieve that".
Tello also extended a welcome to new signing Neymar and insisted that the Brazilian's arrival wouldn't affect his own efforts: "I'll work as hard as I can so that the boss sees I am in the perfect form"