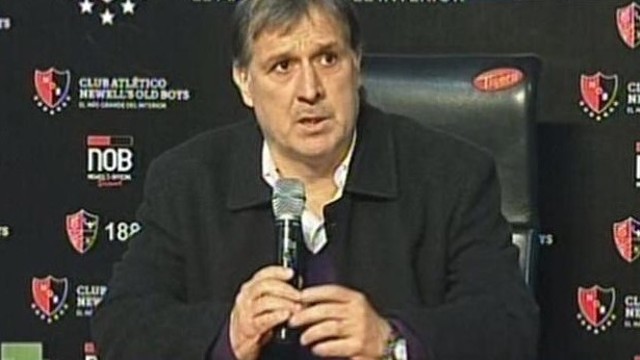 The new FC Barcelona manager thanked the Club for thinking of him
"I wasn't expecting this. I was preparing to get some rest. Barça's call caught me off guard but it fills me with pride," says Gerardo Martino
Marino on Messi: "He's the best player in the world. I'm sure that with our daily work we will be able to guarantee that he continues to the extraordinary player that he is"
Messi: "What a great surprise"
FC Barcelona players were quick to react to the news of Gerardo Martino's appointment to the helm of the first team. Messi declared, "What a great surprise that Martino was chosen as manager." His team-mate, Andrés Iniesta, noted: "If he's the manager that the Club has selected, it means that he's ideal [for the role]."
The news of Gerardo 'Tata' Martino's signing for FC Barcelona hasn't gone unnoticed in Argentina. The new Barça manager held a press conference this afternoon at the Newell's Old Boys stadium to address his decision to sign for the Catalan Club. "I'm very grateful to Barça for thinking of me. It's an extremely important opportunity," said the new Barça manager. "I didn't expect this. The season has started for everyone and I was preparing to get some rest. Barça's call caught me off guard, but it fills me with pride. The news of Tito Vilanova's illness was unexpected," he said. "This is an enormous challenge," he added.
When asked about being Leo Messi's new manager, Martino said, "training Barça means you train the best player in the world. I'm sure that with our day to day work we will be able to guarantee that he continues to be the extraordinary player that he is."
Barça's defined style
'Tata' went to say that leading a team like Barça is what any manager dreams of. "The day to day work will make us fell comfortable. The first thing we have to do is start work in order to establish personal relationships," said Martino.
When asked about the team's philosophy, Martino was clear: "We know Barça's history and we know that they follow a defined style of play. We have to see what we can bring to a set of players who are very good. Barça have a define style and we are the ones that have to adapt to it."
Martino added, "I don't know the details on how this decision was made, but I'm sure Messi and his father's opinions on the matter were taken into consideration."