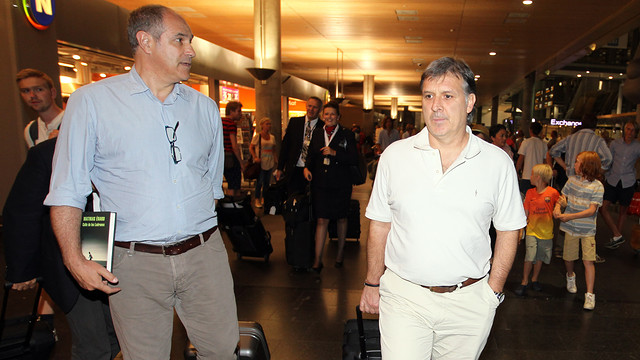 The new Barça manager flew with Andoni Zubizarreta to the Norwegian capital, where they touched down at 23.05 and arrived at the Barça hotel around midnight
Gerardo Martino will be watching Saturday's game (19.00) against Valerenga from the stands

Gerardo 'Tata' Martino flew on Friday night to Oslo where he'll be meeting up with the FC Barcelona first team, who have been in the Norwegian capital since Thursday. The new FCB manager's flight landed in the Norwegian capital at around 23.05 and he arrived at the team hotel around midnight. He was joined on the flight by the director of football, Andoni Zubizarreta, the director of communications, Xavi Martin, and the head of operations, Emili Sabadell.
At the hotel, a number of Barça fans were waiting for him, along with directors Jordi Moix and Joan Bladé and team delegate Carles Naval. Once there, he had supper with the members of the board and Andoni Zubizarreta, among others.
On Saturday he'll be meeting some of his first team, with the players that appeared in the Confederations Cup not yet back on duty. He will also be watching the friendly against Valerenga (19.00) from the stands. There is no training session on Saturday.
Signature, presentation and flight
The last 48 hours have been a busy time for the Argentinian. No sooner had he landed in Barcelona on a flight from Argentina on Thursday than he was taken to the Camp Nou for the traditional photo in front of the club crest. Friday was just as intense a day. At midday he signed the contract binding him to FC Barcelona for the next two seasons, and straight after there was another photo session, this time with president Sandro Rosell, vice president Josep Maria Bartomeu and director of football, Andoni Zubizarreta, among others.
Tata Martino then faced the press for the first time as Barça manager, where he spoke about how thrilled he is about this new challenge and how he wants the team to carry on playing the way they have been until now, with the addition "of a few personal features".