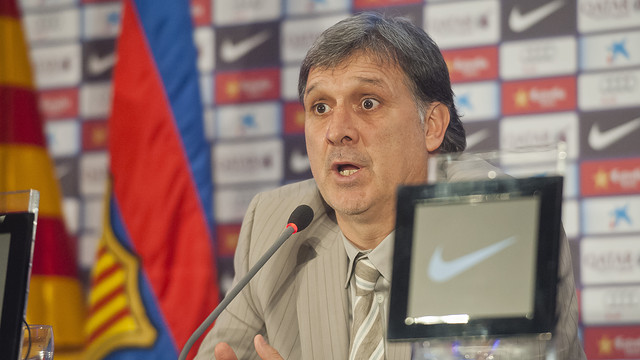 The new FCB manager feels maintaining the team's hunger to win is the key to ensuring the success continues
"At Barça, the shirt alone is enough to motivate", said the Argentinian when asked to describe his feelins about the challenges ahead
Tata also spoke about the players he is taking over. "If Messi and Neymar can`t work together, that's because the coach has a problem, not the players" he said
"Messi had nothing to do with the decision"
Both Martino and Andoni Zubizarreta, who was present at the conference along with vice-president Josep Maria Bartomeu, confirmed that "Leo Messi had nothing to do with the choice of manager". Martino explained that "the only connection between Messi and me is that we are both from Rosario and from Newell's, but we don't know each other personally". On more strictly footballing issues, the new manager said that "Messi will continue to play in the same position because he has developed such an ability to score goals … the team has to keep providing him with as many goalscoring options as he has been getting until now."
Tata Martino is going into the challenge of managing FC Barcelona in full awareness of the big challenges ahead but he's convinced that the club's many successes will continue. The Argentinian said that "Barça is used to winning and not doing so would have to be considered a failure". He is confident that he can ensure Barça keeps its famous style, though he'll be adding aspects that he has instilled in his own teams. "Barça have a lot to win" he insisted.
Combination of styles
He explained that his intention now is to fly to Oslo and watch the game between Barça and Valerenga, where he'll be able to make his first contact with the players and the current coaching staff. "I need to get to know how the club works and to meet the players to reassure them" he said. "But I'll be introducing personal things that I think can make a difference." He will therefore be travelling with his assistant Jorge Pautasso and fitness coach Elvio Paolorosso. "In a few days we'll be deciding on the definitive coaching team" he concluded.
Hunger to win
Martino feels that one of his most important aims is "to ensure the players remain as hungry to win as they have done in previous seasons … I have to get to know the players quickly so they start trusting me … If we are able to maintain the essence of the greatest Barça moments, we'll be successful".
Asked about the system he plans to use, the new coach explained that he'll be looking to recover "pressure in the offensive zone to win the ball in attacking positions … and keeping the line of defence far away from our own area".
Squad management
Tata Martino will be taking over a squad that "has touched upon excellence at many times" and he wants that to remain the case. "If Messi and Neymar can`t work together, that's because the coach has a problem, not the players". As for the relations between the coaches and the players, he said that "we like to feel close to the players. For the growth of the team it's essential for there to be conversation and the exchange of ideas".
"I'm counting on the full squad. If a player forms part of it then he is automatically considered important" he added before explain that he not wish to get involved in any discussion about transfers at this stage. "First I have to get to know the squad before I can express an opinion" he insisted, also stressing the fact that he also needs to meet the staff he's going to be working with. "We are going to need everyone's help" he said.
All told, he is clearly looking forward what lies ahead, and commented that "at Barça the shirt alone is enough to motivate