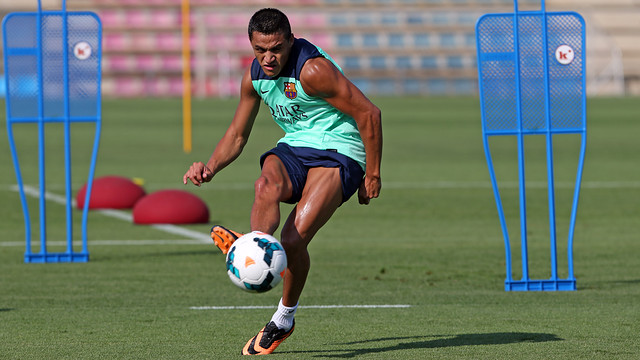 The twelve available first team members trained today at the Ciutat Esportiva
Cuenca, under observation due to cervical contusion, will return to his recovery programme once he receives medical clearance
11 Barça B players will join the evening session
Second day of training at the Ciutat Esportiva Joan Gamper. The 12 available first team members, under the orders of Tito Vilanova and his coaching staff, continued with a highly physical session that also included ball work as well as the usual warm-up drills.
The session began at 9.00 am, when the heat was a little less intense and so the conditions were somewhat better for the players. Isaac Cuenca was missing because in addition to his long-term knee injury, yesterday he suffered a cervical contusion and spent the night under observation. Carles Puyol and Ibrahim Afellay, meanwhile, continued separately with their specific recovery programmes.
11 Barça B players will be joining the evening session, namely Ilie, Planas, Gómez, Joan Román, Kiko, Espinosa, Patric, Dongou, Nieto, Quintillà and Samper, starting at 19.00, and will continue with the first team until the Spain and Brazil internationals get back.