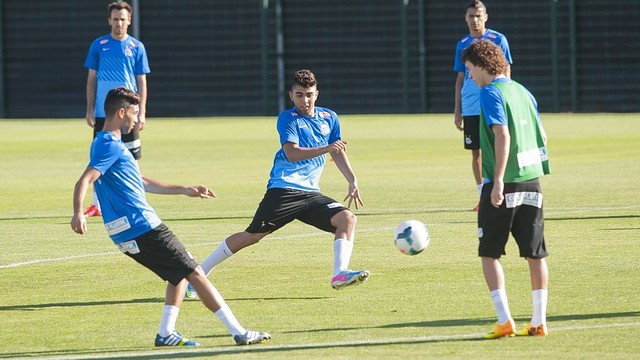 Santos arrived this Tuesday and they completed a light training session at the Ciutat Esportiva Joan Gamper
They will train again on Wednesday and Thursday ahead of the Joan Gamper Trophy, which is scheduled for Frida at 21.30 (TV3, GolT)
This Tuesday Santos FC arrived to Barcelona from Rio de Janeiro. The Brazilians will be Barça's opponent in the Joan Gamper Trophy this Friday at 21.30 at the Camp Nou.
Arrival to Barcelona and light training session
Neymar's ex-team landed at El Prat Airport at around 13.00 and at 18.00 they were at the Ciutat Esportiva. The Brazilians completed a light training session in preparation for the match on Friday. Santos will train on Wednesday and on Thursday ahead of the match.
The Brazilians are eager to face off against Barça, according to Gabriel Barbosa, one of the Santos forwards: "FC Barcelona are a very big club. It's a privilege to be able to play at the Camp Nou."
"I'm very pleased to be here. It's a dream come true," said another Santos player, Neilton, who added, "I'll do what I know how to do in order to follow in Neymar's footsteps."
Neymar, the star of the Gamper
Barça's new signing will face off against his ex-team for the first time on Friday. Walter Montillo, ex-teammate of Neymar at Santos, has no doubts that the Brazilian star will adapt well to Barça's style of play: "Neymar has qualities that no one can deny. The whole world knows what he can do on the pitch. Little by little he will win over the fans," said Santos' Argentinian player.
"Neymar is a normal chap, he likes to be with his family. He has never had any problems in Brazil. Barça have completed a very good signing," explains Montillo.
When asked about the Messi-Neymar duo, and how well the two will get along, Montillo said, "those of us who like football are excited and waiting to see both of them play together. I don't think they will have any problems because when you have players who are great like Barcelona have, they become another piece of the team."