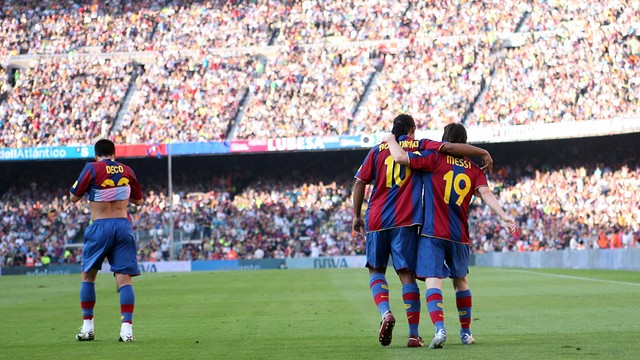 President Rosell and a number of ex-teammates, like Messi and Puyol, talk about the extent to which Ronaldinho left his mark on the Club
10 years of a magic number 10. This Sunday marks the tenth anniversary of the Club's signing of Ronaldinho. Coming to the side after a four year lean spell, Ronaldinho lit up the Camp Nou and with his infectious smile and lovely skills he won the hearts of football fans all over the world and led the team to two consecutive league titles and that wonderful Champions League victory in Paris.
To mark the anniversary, Barça TV will show a documentary called 'Quan el Barça va recuperar el somriure' – "When Barça got their smile back" – which includes contributions from Club President Sandro Rosell, ex-teammates like Messi, Carles Puyol, Deco and Sylvinho, coaching assistant to Frank Rijkaard, Eusebio Sacristán and the head of sports at El Pais, Ramon Besa.
An end to a negative spiral
Sandro Rosell, who was Sporting Vice President in 2003, stresses the complete turnaround that Ronaldinho brought to the Club: "he is the person who changed the negative spiral into the positive one which continues to this day". An opinion echoed by Messi who explains: "he changed the whole situation at the Club not just in the sporting arena, but really in every aspect".
Puyol admits the pessimism that was in the Club at the time of Ronaldinho's arrival: " we were coming out of a very tough period in which we were not only winning titles, we weren't even competing". Sylvinho reckons: "Ronaldinho brought the great Barça back.