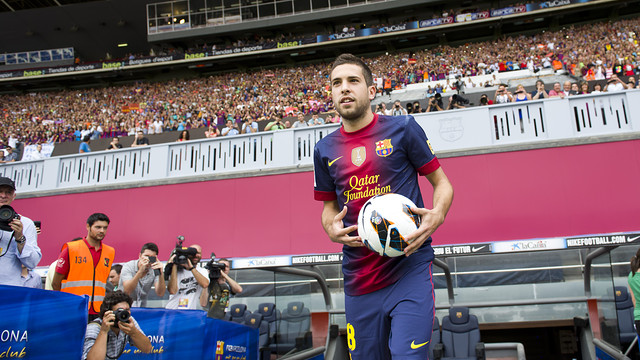 The left back has become a regular feature of the Barça defence
Jordi Alba has become an essential part of Tito Vilanova's plans. In his first season at FC Barcelona, he has become one of the first choice defenders and through effort and hard work he has won the respect of his team-mates and the admiration of the fans.
First signing by Tito Vilanova
Jordi Alba came to FC Barcelona after being one of the revelations of Euro 2012. After winning the title with Spain, he left Valencia in exchange for 14 million euros. He was presented on July 5, 2012 in a packed Sala Paris as the first signing of the Vilanova era. "I am very happy to come back to my home and be with my family" he said that day. "This is a big opportunity for me, the best players are here and I have to be up their level. I take it as a challenge, not as pressure".
The left back was returning to the club where he started out on the road to fame. After seven years in the FC Barcelona youth programme, Jordi Alba left La Masia for UE Cornellà. He was there for two years (2005-2007) and then moved to Tarragona (2007-2009). At Valencia CF he finally made his top flight debut (2009-2012).
Ever-present in first season
His rapid runs down the left flank and his tight defending soon made him one of the first choice defenders in the FC Barcelona scheme.
In his first season he only sat out nine league matches. In March he pulled his hamstring while playing for Spain against Finland, but despite that minor setback he was just as strong on his return and helped the club to its 22nd Liga title.
Great stats
The FCB player made 29 Liga appearances in total, playing all 90 minutes in 27 of them. He was the third highest passer in the whole competition, totalling 2,460 and topped only by Xavi (2,997) and Rayo Vallecano's Roberto Trashorras (2,526). And 88% of those passes were completed.
Jordi Alba also started every one of the Champions League matches (9) and scored two goals. He also played four times in the Copa del Rey and scored a goal in the semi-finals.
Special content Welcome home