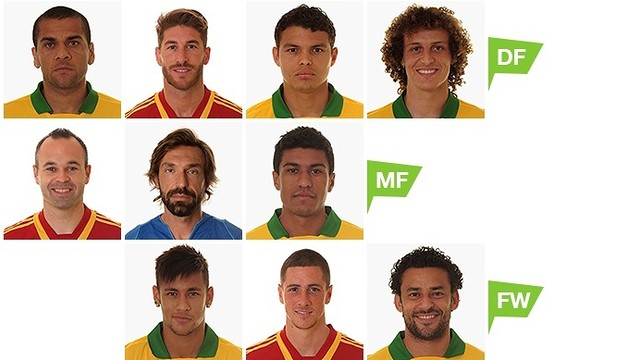 FC Barcelona has more representatives than any other club in the eleven voted by users of FIFA.com
Neymar, Dani Alves and Andrés Iniesta have been named in the all-star team of the recent Confederations Cup as voted by users of FIFA.com. The trio have made FC Barcelona far and away the most represented club in the eleven.
All three played important roles in their team's performances in Brazil. Neymar scored four goals and was named tournament MVP, and Andrés Iniesta was named second best player. Meanwhile, Dani Alves is an established part of the Brazilian team and performed brilliantly at right back throughout the tournament-winning campaign.
The complete team
Other than Italy's Pirlo, the entire Confederations Cup XI is made up of members of the two sides that competed in the final, Brazil and Spain. The full list reads as follows: Julio Cesar (Brazil), Dani Alves (Brazil), Sergio Ramos (Spain), Thiago Silva (Brazil), David Luiz (Brazil), Andrés Iniesta (Spain), Andrea Pirlo (Italy), Paulinho (Brazil), Neymar (Brazil), Fernando Torres (Spain) and Fred (Brazil). The FIFA.com users picked Brazil's Felipe Scolari as manager for the team.