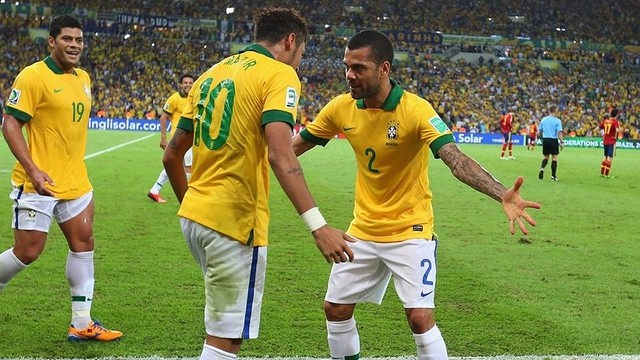 Brazil cruised to victory over Spain in the final of the Confederations Cup thanks to goals from Fred (2) and Neymar
The newest Barça player was named MVP of the tournament

MATCH FACTS
Brazil, 3
Spain, 0
Brazil: Julio César, Dani Alves, Thiago Silva, David Luiz, Marcelo, Luiz Gustavo, Paulinho (Hernanes, min. 87), Hulk (Jadson, min. 72), Neymar, Oscar i Fred (Jo, min. 79).
Spain: Casillas, Arbeloa (Azpilicueta, min. 45), Piqué, Ramos, Jordi Alba, Sergio Busquets, Xavi, Iniesta, Mata (Navas, min. 52), Pedro i Torres (Villa, min. 58).
Goals: 1-0, Fred (min. 2); 2-0, Neymar (min. 44); 3-0, Fred (min. 47);
Referee: Bjorn Kuipers (Holanda).
Eight FC Barcelona players lined up for their respective countries at the Maracaná Stadium for the final of the Confederations Cup this evening; two Brazilians – Neymar and Alves – and six for Spain – Piqué, Alba, Sergio, Xavi, Iniesta and Pedro. David Villa also got some playing time when he was subbed in for Fernando Torres in the second half.
Neymar, thanks to his four goals and a handful of assists, was named MVP of the tournament after the match . The new FC Barcelona player led Brazil to its third consecutive Confederations Cup title (2005, 2009 and 2013).
Neymar completes a stellar first half
A spectacular goal from Neymar capped off the forward's notable performance in the first half. The player fired the ball to the ceiling of the net after a good assist from Oscar to make it 2-0 just before the break. The first goal was scored after only two minutes, when Fred took advantage of a loose ball inside of Spain's area.
Spain, on the other hand, were not comfortable on the pitch. Sergio shined as holding midfielder while Xavi and Iniesta were unable to move the ball with the necessary pace due to Brazil's frenetic pressure. Pedro enjoyed the best chance for Spain in the first half by David Luiz did well to clear the ball off the line.
Fred scores the third at the start of the second half
Fred, just like in the first half, scored minutes after the starting whistle. The forward one-timed the ball to the far post of Casillas' goal. Sergio Ramos could have pulled one back for Spain from the penalty spot but his shot went wide of Julio César's goal.
Del Bosque decided to bring in Navas and Villa for Mata and Torres with roughly 30 minutes left on the clock before full time. The Barça forward tested Julio César but it was Neymar who commanded the attention of the fans at Maracaná. The Brazilian, with lots of space ahead of him, was brought down by Piqué near the edge of Spain's area. The Barça defender was shown a red card for his efforts, and as Piqué walked off the pitch Spain's hopes of winning the only international title yet to grace its trophy cabinet quickly faded.
The referee blew the final whistle and Brazil claimed their fourth Confederations Cup title.