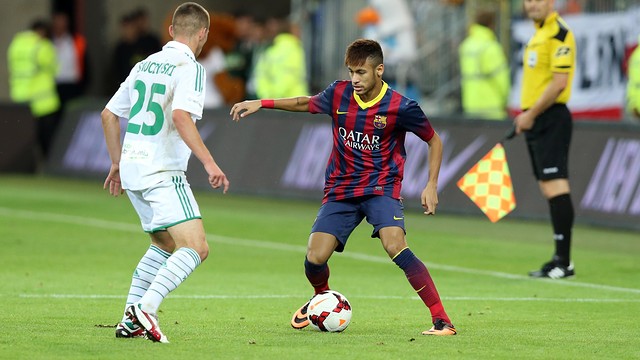 Barça's number 11 came out onto the pitch on the 78th minute and he showed signs of his quality in his first match in the Barça strip
FC Barcelona had already made ten substitutions while Neymar was waiting for his turn on the sideline, but he would be the protagonist of Barça's final sub of the match. When the ball went out of play, the assistant referee lifted the electronic sub board which had the Brazilian's number 11 on it. It was the 78th minute when Neymar Jr finally came on for Alexis Sánchez and thus made his debut in the FC Barcelona strip.
Welcomed to the pitch with fouls
He sprinted out onto the pitch and he tracked back in order to get possession and, always hugging the left wing, tried to partner up with his new team-mates. In the 15 minutes that he enjoyed on the pitch, he completed five passes, lost possession twice and drew four free kicks, one of which saw Oualembo get booked. He also showed signs of his quality, like his back-heel pass down the left wing.
When the match was over, his new team-mates and players from the opposing team congratulated him on his debut.