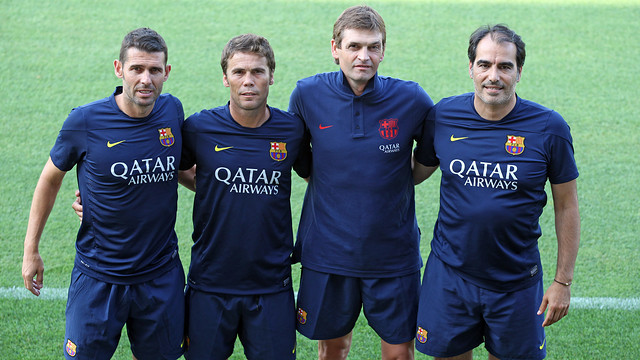 Rubi, Jordi Melero and Jaume Torras have joined the team led by Tito Vilanova
Barça 2013/14 has new faces not only in the squad but also in the coaching staff. This season, Tito Vilanova has three new assistants in Joan Francesc Ferrer, 'Rubi', Jordi Melero and Jaume Torras.
Rubi, the former Girona boss, will be Vilanova's assistant. In his first ever press conference he said "my intention was to get him last season. I know him very well, he's the kind of man who can make us better … He can help us to analyse opponents, I spend a lot of time doing that and that'll mean I now get to spend more time with the team".
Torras and Melero, meanwhile, will be joining the scouting department.
Jaume Torras (Vic, 7-10-1968) was at La Masia as a player for three seasons (86-87, 87-88, 88-89). He played two years as goalkeeper with the U18s and then went on loan to Igualada. Je later played for Manlleu, Sant Andreu and Cartagena, while his managerial career has taken him to Manlleu (where he was also technical director last season), Vilassar de Mar and Cornellà.
Jordi Melero (Olot, 6-6-1972) is in his fourth season at FCB. Until now he's been technical secretary, working as an observer of professional football around Europe. Before that he was assistant coach to Narcís Julià at Girona in 2009-10. As a player, he donned the shirts of Girona, Tarragona, Figueres and l'Hospitalet.