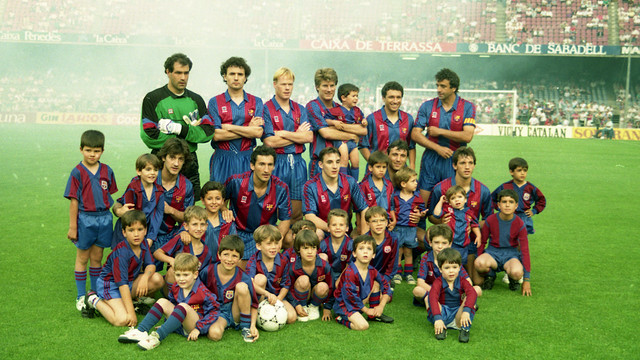 The new Barça manager hasn't set foot in the Camp Nou for 23 years after playing there in his days at Tenerife.
Barça and Tenerife met on March 2, 1991, when Martino faced three men who he'll soon be getting to know very well: Zubizarreta, Eusebio and Amor

Fitxa técnica
FC Barcelona, 1
CD Tenerife, 0
FC Barcelona: Zubizarreta, Nando, Alexanco, Eusebio, Serna, Bakero, Goikoetxea (López Rekarte, 62′), Stòitxkov, Julio Salinas (Urbano, 86′), Amor and Begiristain.
CD Tenerife: Manolo, Llorente, Francis, Toni, Redondo, Toño (Felipe, 65′), Torrecilla, Revert (Salmerón, 78′), Rommel, Martino and Quique Estebaranz.
Referee: Bartolomé Riera
Goal: 1-0, Stoichkov (p), min 22.
Gerardo Martino, the new Barça manager, is back in the stadium where he played a Liga fixture on March 2, 1991. The Argentinian was playing for Tenerife at the Camp Nou just days after signing for the Canary Islanders. Martino played the full ninety minutes and got a yellow card.
A Hristo Stoichkov penalty won the game for FCB, who went on to win the title. That was the first of four championships for the legendary 'Dream Team'.
Zubi, Eusebio and Amor in home side
Football produces these curiosities, for 23 years later Martino will now be collaborating very closely with three of the players in the FC Barcelona side that day. Andoni Zubizarreta is now director of football at the club, Eusebio Sacristán coaches Barça B, and Guillermo Amor is the technical director of youth football – all people who frequently liaise with the first team boss.
Eusebio and Amor are looking after the youth section that plays such an important role in the club's philosophy, and will be assisting the Argentinian by nurturing the next generation of local talent.