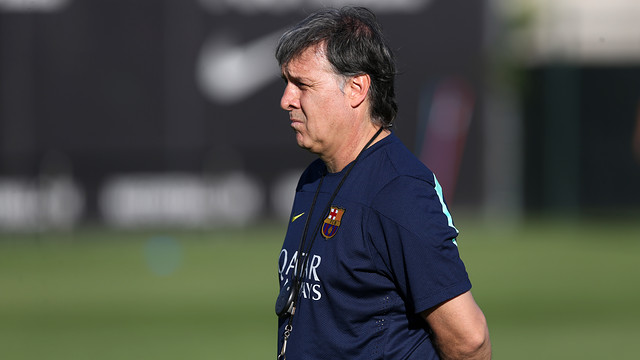 The footballers who participated in the Confederations Cup trained alongside their team-mates this Monday afternoon
The reserve players who have been training with the senior side also participated in the session
This Monday afternoon, Gerardo "Tata" Martino led his first training session with all available first team players for the first time. The ten players who participated in the Confederations Cup – Valdés, Alves, Piqué, Jordi Alba, Busquets, Xavi, Iniesta, Cesc, Pedro and Neymar – were all present for this afternoon's training session.
Even though the internationals paid a brief visit to the Ciutat Esportiva this morning to attend Martino's team talk, this afternoon's session was the first with the whole team – and Neymar's first ever as a Barça player. The coaching staff worked with all 22 first team players in the session, with the exceptions of Puyol, Afellay and Cuenca, all of whom are recovering from injury.
Eleven Barça B players also trained with the senior side, with the only variation of Bagnack taking Quintillà's place in the session. Therefore, nearly everyone who travelled to Germany and Norway trained this afternoon at the Ciutat Esportiva.