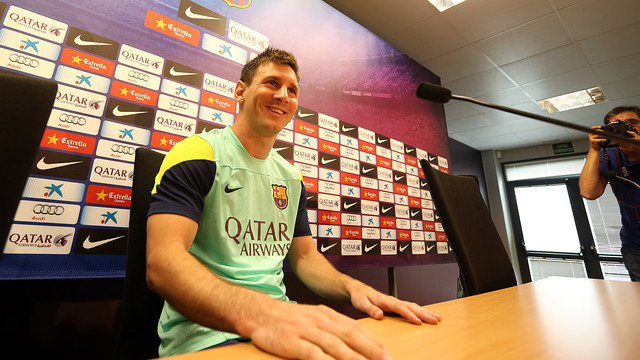 The Argentinian is going into the new season with high hopes of the team achieving all of its objectives
On Neymar Jr, he said "he's a great player and I don't think we'll have any problems"
Leo Messi was the first player to give a press conference in the 2013/14 season, which officially starts in a month's time. He says he's looking forward to it, and that "like at the start of any preseason, I'm very much hoping we can achieve all of our objectives."
He went on to speak about Neymar and how he expects his new colleague to adapt to life at the Camp Nou, saying "I think he's a great player. He's joining a star-studded team and I don't think he'll have any trouble adapting and performing as well as he has done until now. I don't think we'll have any problems with him. There are some great people in the squad. I don't know him very well, but he seems like a nice lad."
Messi also commented that the Brazilian "is very strong in the one on one. The way we play he'll get plenty of one on one chances and think he'll be able to give a lot to this team".
Asked about the injury he suffered late last season, Messi said it's all behind him now. "I hadn't been injured for some time, but there's always that risk. It can happen to any of us. It really wasn't a very big injury, but I played when I wasn't fully fit and that aggravated it, but I knew about that and I don't regret it".
Leo Messi also spoke about the club's main rivals this season. On a European level, "Bayern have a great team. They showed that by winning the Champions League so convincingly, and with Guardiola they'll be even stronger". At home, he expects Real Madrid to be the main threat once again, because "they have stronger players every year, and because of who they are and what their club means. It'll be a very difficult league".
Asked about his tax situation, which he needs to sort out, Messi claimed that he is taking it all calmly. "My lawyers and advisors, the people who know about these things and who I trust, will sort it out" he said. "I don't understand very much about these things."