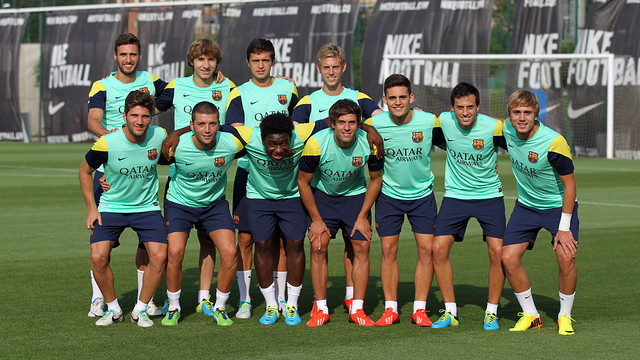 Here's an overview of the 11 Barça B players training with Tito Vilanova's men
Tito Vilanova will fill out his roster with 11 Barça B youngsters until the first team player who featured in the Confederations Cup return to Barcelona. The following is an overview of the Barça B players currently training with the senior side:
Ilie Sánchez: He's one of the most versatile players in the reserve side. He started out as an attacking midfielder before he took ownership of the holding midfielder position, and, years prior, he played as a right full back. He excels due to his simple and efficient play style, his passes are intelligent and he's adept at positioning himself well. He conserves the possession, he receives the ball well and he's a textbook Barça passer.

---
Carles Planas: Fast, intense and demanding player who can play as a left full back or in the middle of the defence. He joined Barça's youth system at the age nine, and he's moved up the ranks ever since. The absence left backs makes him nearly indispensable for Eusebio Sacristán's Barça B. He made his first team debut in a Cup match against Alavés at the Camp Nou (3-1).

---
Sergi Gómez: His steady development has made him one of Eusebio's go-to men at Barça B. Strong and physically dominant, this player excels in areal play on both sides of the pitch. He anticipates plays well and he's difficult to beat in one-on-ones. He made his first team debut in the 2010/11 season, in the away leg of the Spanish Super Cup against Sevilla (3-1).

---
Joan Román: This player is a versatile and technical attacking midfielder. He's excellent at taking defenders on and his pace allows him to function effectively on both the right and left wings of Barça B's attack. Thanks to his goalscoring capability, he's also played as a centre forward. In fact, he scored both the goals in Barça B's debut preseason match a couple of days ago against Escala. He also has international experience, as he spent three seasons in Barça's Juvenil team and he also featured for Manchester City's reserve side.

---
Kiko Femenía: This player was formed in Hércules' youth academy and he was considered to be one of the best wingers of the Draft 2011 Awards. Having featured in over 70 Primera matches in his career, the Valencia-born player's versatility allows him to play as an attacking winger and as a right full back. He made his debut for Barça's senior side in the 2011 Joan Gamper Trophy.

---
Javier Espinosa: This midfielder has always shined because of his skill on the ball and controlled gallops down the pitch. His game vision and subsequent choices on the pitch is reminiscent of a young Iniesta. Despite not enjoying the amount of game time in the past, this season looks to be Espinosa's year to play a more pivotal role for Barça B.

---
Patric Gabarrón: He initially started out as a midfielder but Eusebio has repositioned him as right winger, and the ex-Villarreal player has performed beautifully ever since. The player has great game vision, and his seemingly inexhaustible work rate makes him an asset in Barça B's midfield.

---
Dongou Tsafack: The Cameroonian is a quick and skillful striker. He stands out thanks to his goalscoring prowess and for the number of goals he's netted in each tier of Barça's youth academy. Despite his age – he made his debut for Barça B at the age of 17 – he's already played an entire season for Barça B.

---
Dani Nieto: This quick and technical forward is known for his excellent shot with his left foot. He's also a proficient crosser and skillful when it comes to taking on defenders. He has a lot of experience in Segunda as he played for Girona and Alcorcón.

---
Jordi Quintillà: 'Quinti' plays in Barça B's midfield. A quality player with excellent game vision, he stands out for his gritty sacrifice throughout the 90 minutes of play. Last season he was loaned to Badalona after not getting playing time with Barça's reserve side, and he took advantage of the opportunity. He's returned to Barça eager to win a spot in Eusebio's starting line-up.

---
Sergi Samper: He started his Barça career at the age of nine after spending time in Barça's FCBEscola system, which makes him a 100% FC Barcelona product. This defensive midfielder is crucial to Barça B as he brings equilibrium and direction to his team-mates. the Barcelona-born player's great technical ability, combined with his on-point game vision and positioning, makes him a very influential player in Eusebio's team. Even though he's very young, he's reminiscent of a former Barça B player, Sergio Busquets.