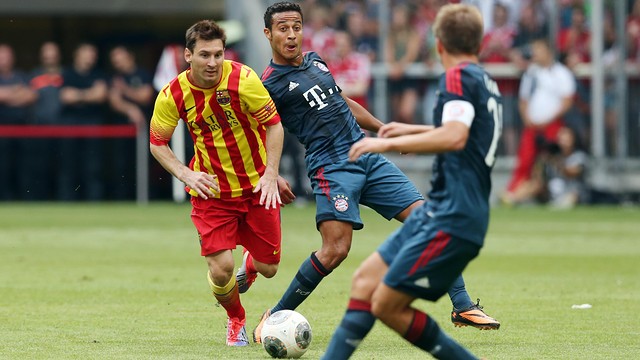 Barça 2013/14 started the preseason with defeat to Guardiola's Bayern at the Allianz Arena
Lahm (min 13) and Mandzukic (min 86) scored against a side that had clearly had more time to prepare
Barça's first game of the 2013/14 preseason ended in defeat away to Bayern Munich. They couldn't have had a more daunting task in their first game back from the break, and under the circumstances it was a fine performance from the Catalans. There are plenty of conclusions to be drawn from a game packed with curiosities, including the reencounter with Pep Guardiola and Thiago and the first game in the shirt based on the colours of the Catalan flag. The Bavarians were clearly better prepared for the match, for they are already well into their preseason schedule, while Barça's line-up in the second half was almost entirely made up of reserve team players. It was never going to be an easy game, and all told, it was a promising performance from the Liga champions.
Lahm scores first
Manager Jordi Roura started the game with all ten of his first team outfield players plus Pinto in goal, while Bayern came onto the pitch with what was basically their first choice eleven. Although the first shot, after just 32 seconds, came from Messi, the Germans didn't take long to take control. Pinto had plenty of work to do to thwart early efforts from Kroos and Alaba, while Adriano managed to clear a point-blank strike from Robben off the line following a delightful bit of skill from Ribery. Bayern were throwing all they had Barcelona, while the visitors struggled to get the ball out of their half. They were also struggling in the air, and it was from a header that Lahm put his side into a 14th minute lead.
Resistance
Sergi Roberto then found himself in a fantastic position following a one-two with Montoya, but his shot skimmed just wide. Nevertheless, it was Bayern who were still on top, with Messi tightly marked and unable to find a way into the area. The Germans were governing the midfield, although they failed to convert much of that possession into clear-cut chances and a proudly resistant Barça started clawing their way back into the match. They came close to equalising through Tello from the edge of the area and an extraordinarily risky back-pass from Rafinha to goalkeeper Neuer ended up hitting the post. It had been an entertaining first half, and Barça were very much still in contention.
Slower pace and late goal
The FCB line-up completely changed for the second half. On came Oier and ten Barça B players to take on none other than the European champions, who only made three changes of their own. But the youngsters held on magnificently. In a much slower paced second 45 minutes, Bayern gradually started taking off their bigger names too. They came close to getting their second when Manzukic's effort was efficiently dealt with by Oier. But despite playing a less direct kind of football, Bayern were still winning the possession count (53% v 47%).
The game wasn't sentenced until the 87th minute, when Mandzukic was on hand to slot home a killer pass from Contento. The Uli Hoeness Cup stays at home, although given the number of key players they were missing, this was a very encouraging display indeed from Barcelona.