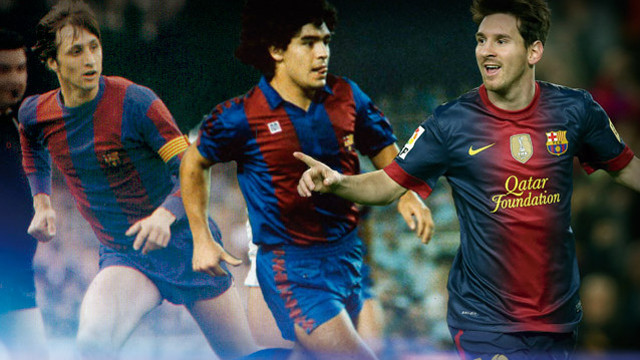 The three Barça players have been included in the British magazine's team, voted by former players and reporters
The other eight are Yashin, Cafú, Maldini, Moore, Beckenbauer, di Stéfano, Zidane and Pelé
The team uses the traditional 4-4-2 system with Pelé and Messi up front
British magazine World Soccer has published an all-time world XI based on the votes of former players and journalists. The past and present of FC Barcelona is represented in the form of Cruyff, Maradona and Messi. The other players are Yashin, Cafú, Maldini, Moore, Beckenbauer, di Stéfano, Zidane and Pelé playing the 4-4-2 system with Messi and Pelé in attack.
Johan Cruyff played for FCB between 1973 and 1978, Diego Armando Maradona between 1982 and 1984 and Leo Messi, the only active player in the list, is the four-time world player of the year.
Barça well represented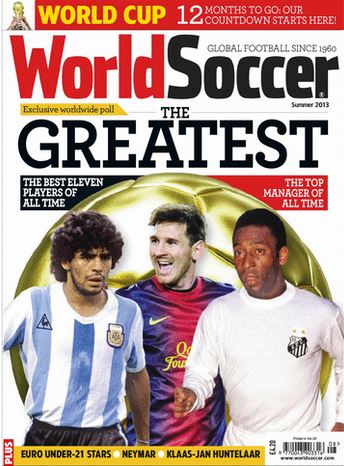 It is not unusual for World Soccer to bestow such honours on Barça players. The last four editions of its world player of the year awards have gone to Barça players, Leo Messi three times and Xavi Hernández once. The Argentinian scooped the award in 2009, 2011 and 2012, interrupted by his Catalan team-mate in 2010. Also, Josep Guardiola was made coach of the year in 2009 and 2011.
The voting:
Goalkeeper: Lev Yashin – 30 votes
Right back: Cafú – 24 votes
Centre back – Bobby Moore – 24 votes
Centre back – Franz Beckenbauer – 68 votes
Left back – Paolo Maldini – 48 votes
Midfielder – Zinedine Zidane – 27 votes
Midfielder – Alfredo di Stéfano – 26 votes
Midfielder – Johan Cruyff – 60 votes
Midfielder – Diego Maradona – 66 votes
Forward – Pelé – 63 votes
Forward – Leo Messi – 46 votes