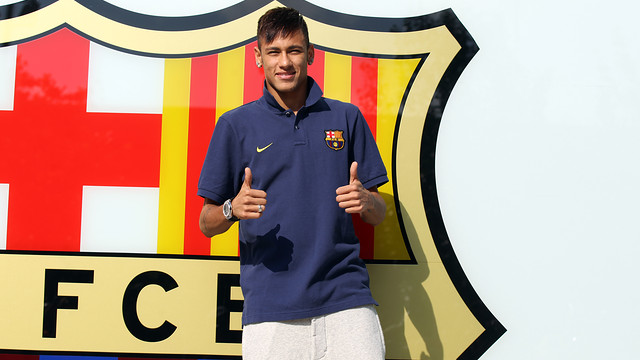 With the departure of Thiago to Bayern Munich, a total of eight players have left the Club this summer – three of them on loan.
The Brazilian Neymar is the only signing Barça have made so far for the 2013/14 season.

Today saw the start of the 2013/14 pre-season with the players' regular medical checkups and we look below at the transfer activity at the Club so far this summer – with one signing, five players moving on and three sent out on loan.
Neymar the big name signing
On May 26th 2013, Barça and Santos announced the transfer of the Brazilian. The deal was for 5 years and ensured a star filled attack for the team next season, with the recent Confederations Cup Player of the Tournament set to link up with World Number One Leo Messi.
Abidal, Villa and Thiago end their time at Barça
Three of Barça's most important players over recent seasons – Abidal, Villa and Thiago left the Club this summer. The contract of the Frenchman – recovered from his illness – came to an end and after 6 years at the Camp Nou, he signed for Monaco.
Spanish striker David Villa also left the Club – signing for Atletico Madrid after three seasons at Barça – intent on setting himself new goals and determined to lay out his case for a role in the 2014 World Cup.
Finally, Thiago Alcántara has also said goodbye to the Club, signing for Bayern Munich this Sunday in a deal worth 25 million Euros and a friendly game in Munich at some time over the next four years.
Muniesa and Deulofeu off to England
The two youngsters left Barça for the Premier League this summer, with Muniesa signing a four year deal with Mark Hughes' Stoke City and Deulofeu going out for a season's loan to Evertion, under their new boss, the Catalan Robert Martíne.
Fontàs and Rafinha join Luis Enrique at Celta
Andreu Fontàs finished his one year loan deal with Mallorca and signed for Luis Enrique for one million euros, whilst Rafinha has returned to Vigo on a year's loan to get first team game time after recently signing a new contract with Barça until 2016.
Bojan to Ajax
The Catalan striker left Milan, where he was out on loan, for another big name European side – Ajax Amsterdam on a one year deal, with the possibility of a further year's extension. Bojan, who has previously been out on loan to Roma and Milan, is under contract to Barça until 2015.