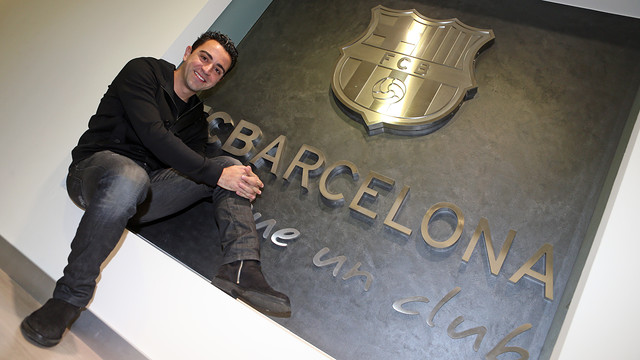 Speaking to the Catalan sports paper "Sport" last week, Barça's Xavi Hernadez dismissed those who claimed Barça's winning cycle had come to an end "the people who say that just don't like Barça!"
No plans to slow down just yet
Xavi was also asked about whether he should begin to slow down and choose his games now that he is 33, but he was having none of it and was adamant: "I've heard that kind of comment for the last three or four years now. Of course I'm 33 and I've been playing at the top level for 15 years now – I can't deny that, but I feel good and I want to keep playing for a few years more yet"
With the Spanish season over, Xavi Hernadez spoke to the Catalan sports paper "Sport" last week and insisted that Barça remain the dominant footballing force they have been over the last few years. The Catalan midfielder also revealed he'd rather lose playing well than win playing badly, gave his own take on the defeat to Bayern and made it clear he's not thinking about retiring just yet.
"You have to look beyond simply the results and examine how the games went"
Xavi Hernandez dismissed any claims that Barça's wonderful era of success is on the wane in his interview: "It makes me laugh when people say that. I've been hearing the same thing for years now and unfortunately for some people, it just never happens. The people saying that just don't like Barça and so we simply ignore them and carry on enjoying the success". The Catalan also reckons Bayern's triumph doesn't necessarily mark a changing of the guard at the top of the European game: "we are just talking about one successful season – what are you saying then, that Chelsea were better than Bayern last year when they beat them?"
Bayern defeat has to be put into context
Asked about the defeat to Bayern in the Champions League semi finals, Xavi was adamant that although the Germans were clear winners, "you have to look beyond simply the results and examine how the games went. They were forced to change their way of playing when they faced us and didn't play with their usual open style – they used the speed of their wingers, they pressed us well and defended solidly, but we dominated possession, they couldn't take that from us". For Xavi, the teams came into the match on unequal terms – something he puts down to the demands of the Spanish season: "they were stronger and sharper coming into the match, but there are many reasons for that and the fact that neither we nor Madrid got to the final this year. The battles we have with Madrid really takes it out of us, it's not the same in Germany, they don't have that intensity of rivalry. This year's Spanish Cup semi finals were really hard and if we carry on like that it's clear that we aren't going to get to April or May in the same condition that they do".
Need to change Spanish Cup format
For Xavi, the best way to alleviate the pressures of the Spanish game is: "make the cup games single matches, not over two legs. That would reduce the number of games we played by four or five and it will also mean the games are more attractive, as the smaller teams have a better chance in a one-off knock out game. If the Spanish Federation wants our teams to get through to more Champions League finals, they have to help us out a bit".
"I don't like negative football"
Xavi also explained that it's not just winning that counts, but how the game is played: " I'd rather lose a Cup Final playing well – as long as we've already won the league of course – just like Bielsa's Athletic Bilbao did in the Spanish Cup Final two years ago against us. They took us on toe to toe and didn't abandon their attacking philosophy – that will stick in my mind for ever, but I've already forgotten how Chelsea played when they won the Champions League. I don't like defensive, negative football that just looks for a result – I don't enjoy it and it bores me to death!".