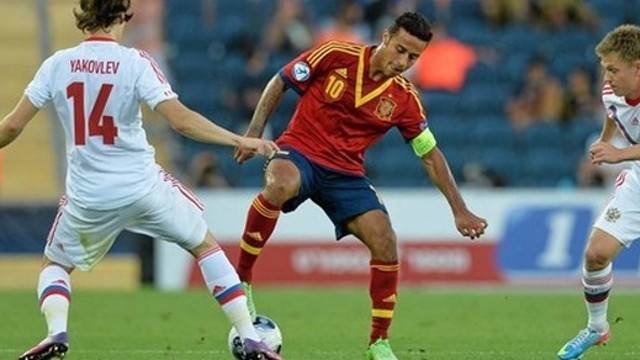 El combinado de Lopetegui, con cuatro culés sobre el césped, ha ganado a Rusia gracias al gol de Morata en la recta final del duelo
The team managed by Lopetegui, who named four FC Barcelona players to the starting line-up,
MATCH FACTS
Spain, 1
Russia, 0
Spain: De Gea, Montoya, Bartra, Iñigo Martínez, Alberto Moreno, Illarramendi, Thiago, Isco, Muniain (Morata, min 62), Tello (Koke, min 84) and Rodrigo (Canales, min 77).
Russia: Zabolotni, Schennikov, Chicherin, Burlak, Belyaev, Tsallagov (Kirilov, min 79), Petrov, Shatov, Bibilov (Grigoriev, min 46), Yakovlev and Cherysev (Kanunnikov, min 67).
Goals: 1-0 Morata (min 81).
The U21 Spain team started their European Championship bid in Israel with a 1-0 victory over Russia this evening. Four FC Barcelona players (Montoya, Bartra, Thiago and Tello) nearly played the entire 90 minutes of regulation time. Thiago started the play that led to the match-winning goal, which was scored by Morata on 81 minutes.
Barça leads Spain
The U21 team started off strong as the first three chances of the match were created by Barça players. First, Montoya nearly gave Spain the lead but his shot went just wide of goal (min 10), later Thiago's free kick was saved by the keeper Zabolotnyi (min 18), and finally Tello's shot hit the side netting of the goal as the first half came to a close (min 37).
Thiago assists Morata
Just like in the first half, Spain didn't want to settle for a draw. Rodrigo had two chances after two brilliant plays from Isco, but neither went in. However, on 81 minutes, Thiago served up a free kick which was headed in by Morata.