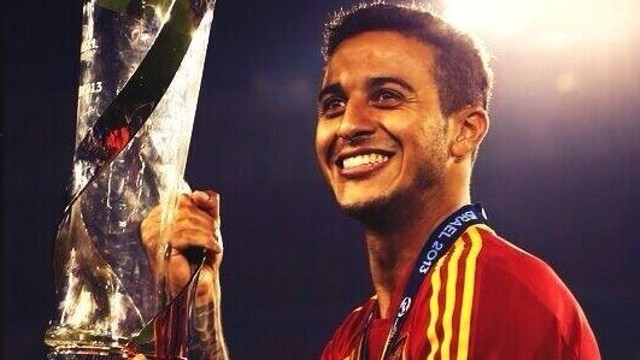 "Thiago displayed leadership qualities on and off the pitch and, throughout the tournament, was an influential figure in his team's performance with impressive box-to-box work", says UEFA
Marc Bartra and Martín Montoya were among the 23 footballers named to the All-Star team
UEFA has selected Thiago Alcántara as the most valuable player of the U21 Euro championship hosted by Israel. The Barça midfielder, who scored a hat trick in the final against Italy (4-2), was also named to the 2011 U21 Euro All-Star team.
On UEFA's official webpage, the jurors – who selected 23 of the best players for the All-Star team – give their reasoning for naming Thiago the MVP of the tournament: "As captain of the title winners, Thiago displayed leadership qualities on and off the pitch and, throughout the tournament, was an influential figure in his team's performance with impressive box-to-box work; exceptional ball control even in the tightest of situations; ability to dictate the tempo of play; intelligent ball-winning based on anticipation rather than tackling; and outstanding playmaking skills based on a wide variety of short and long passing. His three goals in the final represented a unique individual achievement and reward for his contributions to his team's success."
Two more Barça players named to the All-Star team
In addition to the talented midfielder, two more FC Barcelona players were named to the All-Star team. Marc Bartra and Martín Montoya, two crucial players to Julen Lopetigui's side, joined their Club team-mate among the best 23 players of the competition. There were other Spain players who were also named to the All-Star team: David de Geo, Álvaro Morata, Rodrigo, Iñigo Martínez, Alberto Moreno, Asier Illarramendi and Koke.