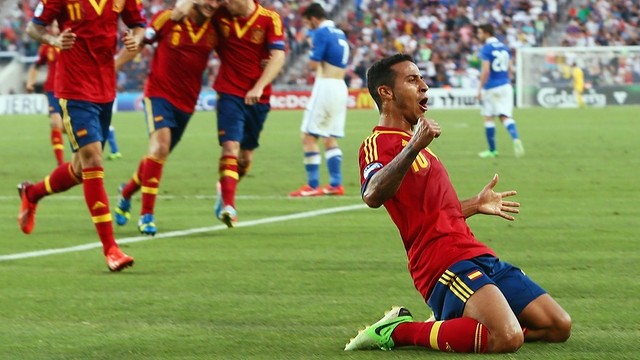 The Blaugrana midfielder scores a hat trick in the first half and leads Spain to back-to-back U21 Euro championship titles
Four FC Barcelona players were named to the starting line-up: Bartra, Thiago, Montoya and Tello
MATCH FACTS
Italy, 2
Spain, 4
Italy: Bardi, Donati, Bianchetti, Caldirola, Regini, Florenzi (Saponara, min 57), Rossi, Verratti (Crimi, min 76), Insigne, Borini, Inmobile (Gabbiadini, min 57)
Spain: De Gea, Montoya, Bartra, Iñigo, Alberto Moreno, Koke (Camacho, min 85), Illarra, Tello (Muniaín, min 70), Thiago, Isco, Morata
Goals: 0-1, Thiago (min 6); 1-1, Immobile (min 10); 1-2, Thiago (min 31); 1-3, Thiago (min 38, pen); 1-4, Isco (min 66, pen); 2-4, Borini (min 80)
Referee: Matej Jug (SVN)
The U21 European Championship has a champion. Spain, who defeated Italy this afternoon in a final decided by Thiago Alcántara – who scored a hat trick in the first half – reclaimed the title they won in 2011. The Blaugrana player led his team-mates to victory over a vastly outclassed Italy. Montoya, Tello – both of whom won penalties -, Bartra, Thiago, and Muniesa – the only Barça player who didn't feature in the final – will return from Israel as U21 Euro champions.
1-1 at the 10 minute mark
The final started off with a bang as Morata thundered down the line and crossed for Thiago, who headed the ball to the back of the net for the first goal of the match (min 6). Italy hit back with a quick goal of their own. Four minutes later, a long ball was taken advantage of by Immobile, who chipped De Gea to make it 1-1.
Three goals for Thiago after 32 minutes
Julen Lopetegui's men responded immediately. Koke and Morata both enjoyed chances, but it was Thiago who put Spain in the diver's seat once again. The midfielder brought down a cross from Koke and volleyed past the Italian keeper to make it 1-2.
Spain wasn't satisfied, and they insisted on getting another before the break. Just like in the previous two occasions, it was Thiago who stepped up to score for Spain. This time, he did it from the penalty spot after Tello had been brought down in the area by Donati.
Spain secure the title
At the start of the second half Spain could have notched up a couple more but attempts from Thiago, Tello and Isco were all denied. Finally, it was the Málaga player who scored the 1-4, also from the penalty spot. The play leading to the penalty shot saw Montoya break into the area before he was brought down by Italy's backtracking defence.
The final stretch of the game, Italy pulled one back through a fantastic strike from Borini. Spain are once again champions of the U21 European Championship.