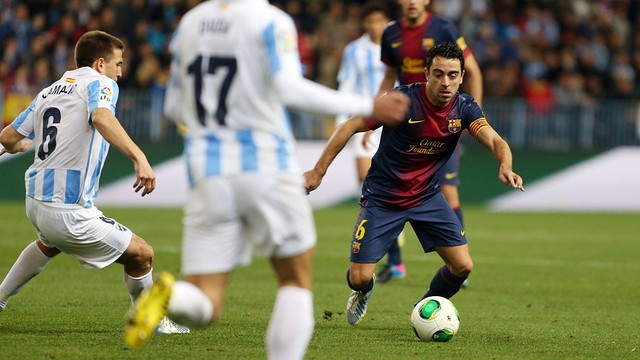 Manuel Pellegrini's men come to the Camp Nou with the intention of bidding farewell to their manager, who has confirmed that he'll be leaving the club this summer
FC Barcelona are hoping to equal the best ever point haul in Spanish football history, and if they beat Málaga, they will accomplish their goal
PREVIOUS MATCH
The first match of the season between Málaga C.F and FC Barcelona was played at La Romadera. Messi and Cesc fired Barça ahead in the first half, while Thiago hammered the final nail in the coffin in the second. The Blaugrana came away from Andalusia with a 1-3 victory, thus taking their unbeaten record in the league to 18 wins and 1 draw from 19 matches.
FORM GUIDE
The last time the two teams met in La Liga saw Barça extend their record as the team with the best start ever in La Liga history, this evening's match could see the Blaugrana accomplish an equally stunning feat. If Barça defeat Málaga at the Camp Nou, Tito Vilanova's men will equal the record for the most points won ever in Spanish football history (100 points). Real Madrid established the record last season when Mourinho led his men to the century mark over Pep Guardiola's FC Barcelona.
Málaga, who have secured a spot in the Europa League next season, will want to send their manager off in style, and how better demonstrate their appreciation than by beating the 2012/13 La Liga champions at the Camp Nou. Málaga have won two of their last five La Liga matches – against Deportivo 3-1, and Getafe 2-1 – while they've lost two – Real Madrid 6-2, and Granada 1-0 – and drawn one, against Sevilla (0-0).
ONES TO WATCH

Manuel Pellegrini has many quality players to call upon for this evening's match, but few match up to the Isco's talent. The Spanish youngster doesn't have a head-turning goal tally in La Liga (seven), but his ability on the ball is only rivaled by the best footballers on the planet. His ability to orchestrate the flow of Málaga's attack is reminiscent of David Silva's ability at Manchester City or Andrés Iniesta's prowess at FC Barcelona. In addition to Isco, Joaquín Sánchez and Willy Caballero shouldn't be overlooked. Joaquín, a midfielder by trade, is lethal in one-on-ones and his accuracy in front of goal can be devastating. Caballero, on the other hand, is tasked with protecting Málaga's goal. The keeper is considered to be one of the best in La Liga, and his stats this season prove it. He's only allowed 38 goals from 33 matches this season, that's an average of 1.15 goals per match. Only Víctor Valdés and Thibaut Courtois boast better records, 1.06 and 0.78 goals respectively.
It goes without saying that if Barça are going to reach 100 points in La Liga, they will certainly be made to work hard for it.