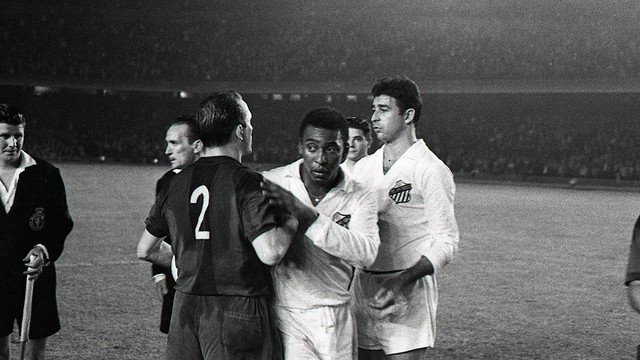 The two teams will meet again after the 2011 Club World Cup final
The match, which could see Neymar don the Blaugrana strip for the first time, will be played on August 2
FC Barcelona and Santos FC will feature in the Joan Gamper Trophy on August 2 at the Camp Nou. It will be the second appearance from the Brazilian team in the summer tournament, after they featured in the 1998 iteration of the Gamper. The match could also see Neymar make his debut for the Club, against his ex-team, seeing that the internationals will be back in training with the first team.
The 2011 Club World Cup final
The last time FC Barcelona and Santos FC faced off against each other was in the final of the Club World Cup in 2011. On that occasion, Neymar defended the colours of Santos FC, the South American champions. The match treated football fans to a duel between two sides that featured two unquestionable stars, Messi and Neymar.
During the match the Brazilians showed their courage and character, but the Catalans were far the superior side. Two goals from Messi, one from Xavi and another from Cesc gave way to a 0-4 thumping of the Brazilian team.
Barça's exhibition in that match was so extraordinary that Neymar declared: "We've learned how to play football." The Brazilian star was awarded the bronze ball after the match, behind Messi and Xavi.
Santos' second Gamper
This August will see the Brazilian team feature for the second time in the Joan Gamper Trophy. Santos' first appearance in the summer tournament was on August 25 of 1998 and the result after 90 minutes was 2-2. Rivaldo and Figo scored for the Blaugrana while Anderson and Ariel netted for the Brazilian team. The winner was decided by penalties, and Barça were named champions (5-4).
A look back at the Barça v. Santos
This will be the seventh time Barça and Santos face off on the football pitch. So far the overall record is considerably in Barça's favour as the Blaugrana have won five of the six matches between the two sides. Perhaps one of the most notable encounters took place 50 years ago, when Pelé featured for Santos agains FC Barcelona.
• 28-06-1959. Camp Nou. Friendly. FC BARCELONA-SANTOS 1-5
• 02-07-1960. Camp Nou. Friendly. FC BARCELONA-SANTOS 4-3
• 12-06-1963. Camp Nou. Friendly. FC BARCELONA-SANTOS 2-0
• 01-09-1974. Carranza. Cádiz. Ramón de Carranza Trophy (3rd and 4th place). FC BARCELONA-SANTOS 4-1
• 25-08-1998. Camp Nou. Joan Gamper Trophy. FC BARCELONA-SANTOS 2-2 (Penalties 5-4)
• 18-12-2011. International Stadium Yokohama. Japan. Club World Cup (final). SANTOS-FC BARCELONA 0-4