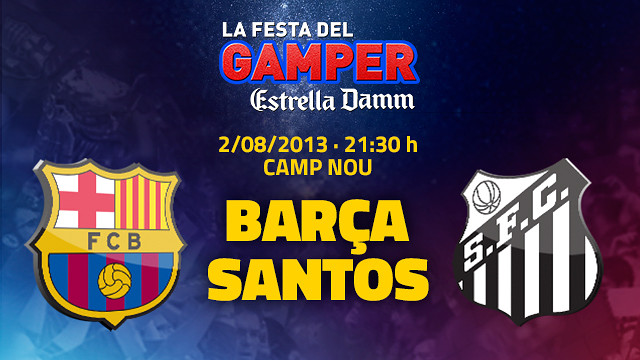 The Brazilian team are currently 16th in the Campeonato Brasileño Serie A after five matches
Neymar's ex-team will have to face the challenge of overcoming the sale of its biggest star
Tickets from Wednesday July 3
From Wednesday July 3, tickets go on sale for the Barça v Santos match for the Joan Gamper Trophy. Prices range from 19 to 89 euros and FC Barcelona members get a 25% discount.
Anna Vives font
For this game, the font used on the Barça shirt will be different to the usual one. A special typography designed by Anna Vives will appear for the Joan Gamper match as the result of an agreement between the FCB Foundation and the Fundació Itinerarium.
Santos FC will be FC Barcelona's rival in the Joan Gamper Trophy, which will be played on August 2 at 21.30. The match against Neymar's ex-team could see the Brazilian don the Blaugrana strip for the first time.
Slow start in the Campeonato Brasileiro
Santos are currently 16th in the Campeonato Brasileiro Serie A on five points from five matches. The team finished 8th in last season's competition.
This past May, Neymar's ex-team were just a step away from winning back-to-back Campeonato Paulista titles, but Corinthians edged Vila Belmiro team by 2-1 and 1-1 in the final.
However, Santos are the current holders of the Recopa Sudamericana, which was won after they defeated Universidad de Chile by 2-0.
Remaining competitive after Neymar's departure
This historic Brazilian team faces the challenge of overcoming the sale of its biggest star. In addition to Neymar's departure, the manager, Muricy Ramalho, was recently sacked. Santos confirmed they are currently "in the process of rebuilding." The team is now managed by Claudinei Oliveira, the U18 manager.
The onus to make the team successful now falls to the 26-year-old Arouca, international with Brazil, and the attacking midfielder Walter Montilla, international with Argentina. The ex-Betis player, Marcos Assunçao, also has an important role to play as he can provide heaps of experience to a side full of young talent.
Two friendlies in Neymar transfer deal
Santos' participation in the Joan Gamper Trophy was agreed upon when Barça signed the Brazilian forward. In addition to the friendly this summer, Barça and Santos will play another friendly in Brazil, the date and time of the match has yet to be determined.