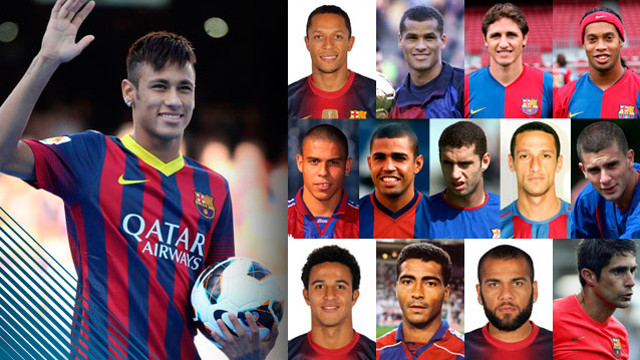 Neymar Junior will be the 23rd Brazilian to make his debut for the FC Barcelona, following on from Alves, Thiago, Maxwell, Adriano and many more
The first was Lucidio Batista da Silva, between 1947 and 1949, and the winner of the most titles at the club has been Alves, who has 15 in five seasons and can still add to that tally
The other 10
Aside from the 22 players that have played official matches, there were another 10 Brazilians that for different reasons never played anything more than friendlies. The first three were Fausto Dos Santos, Jaguaré Becerra and Walter Machado da Silva, who could not play official matches because of the rules in force at the time. Cleo Inacio Hickmann only played one friendly in 1982, as did D'Marcellus Machado, who was in the B team in the 1996/97 season.
Marcelo Anderson da Silva and Luciano de Silva 'Triguinho' came on trial in 2001 and only played one friendly. A couple of years later, Tiago Calvano was in the reserve team but did play in a few friendlies for the first team. And then there were also Henrique Adriano and Keirrison da Souza. The former played in the 2009/10 preseason and the latter never played any official games for Barça.
"When I was young I watched a lot of Ronaldinho, and he played for Barça", said Neymar on Monday at his first press conference after signing for FC Barcelona. A decade after his earliest memory of FCB, Neymar is about to become the 23rd player from his country to appear in an official match for Barcelona, the most recent examples being Alves, Thiago, Maxwell and Adriano.
The long association between Brazil and Barcelona goes all the way back to 1947, when Lucidio Batista da Silva became the first person from the South American country to play for the Catalan club. Da Silva was here for two seasons and won two Ligas, two Latin Cups and one Copa Eva Duarte. History has thrown up plenty of Brazilian trivia since then:
– Seven of the 22 Brazilians won the European Cup at Barça, and two won it twice. Sylvinho and Alves were the double winners, and Belletti, Edmilson, Maxwell and Thiago got one each. Silvio Modesto 'Bio', Aloisio Pires, Giovanni Silva and Ronaldo all won the Cup Winners Cup in a Barça shirt.
– The Brazilian to have won the most honours at FCB is Dani Alves, the current left back who has won 15 different titles. The only Brazilians to leave the club empty handed have been 'Marinho', Roberto 'Dinamita' Oliveira, Fabio Rochemback and Geovanni Deiberson.
– In terms of positions, nine of the Brazilians were strikers, six were midfielders, seven were defenders and none were goalkeepers. Da Silva (1947-1949) was the first Brazilian forward; Giovanni Silva (1996-1999) was the first midfielder and 'Marinho' (1974-1976) was the first defender.
– Barça's first Brazilian 'superstar' was Evaristo de Macedo. The man from Rio de Janeiro scored a spectacular 0.8 goals a game between 1956 and 1962. It was his superb finish on November 23, 1960 that knocked Real Madrid out of the European Cup for the first time.
– Barça's longest-serving Brazilians have been Evaristo (1956-1962), Rivaldo (1997-2002), Ronaldinho (2003-2008), Sylvinho (2004-2009) and Dani Alves (since 2008). The shortest spell was that of Roberto 'Dinamita' Oliveira, who only featured in 11 matches in 1980.
– Mário Peres 'Marinho' (1974-1976) and Giovanni Silva (1996-1999) are the only two players who, like Neymar, came from Santos. 'Marinho' played alongside both Pelé and Cruyff, two of the greatest players the game has ever known.
– Romário (1993-1995), Ronaldo (1996-1997), Rivaldo (1997-2002) and Ronaldinho (2003-2008) were four of the greatest strikers of the last two decades. All of them enjoyed massive success, for varying lengths, at Barcelona.
– The full list of Barça Brazilians is Lucidio Batista da Silva, Evaristo de Macedo, Mário Peres 'Marinho', Silvio Modesto 'Bio', Roberto 'Dinamita' Oliveira, Aloisio Pires, Romário da Souza, Giovanni Silva, Ronaldo Luiz Nazario, Sony Anderson, Rivaldo Vitor Borba, Thiago Motta, Fabio Rochemback, Geovanni Diberson, Ronaldinho Gaucho, Juliano Belletti, José Edmilson, Silvio Mendes 'Silvinho', Thiago Alcántara, Dani Alves, Maxwell and Adriano Correia.