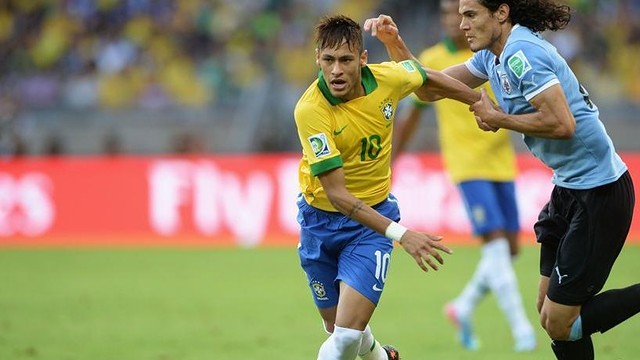 Diego Forlán missed a penalty on 14 minutes and Fred fired away to give Brazil the lead before the break
Cavani brought Uruguay level in the second half, but Paulinho scored in the dying minutes to send Brazil through to the final
MATCH STATS
Brazil, 2
Uruguay, 1
Brazil: Julio César; Alves, Thiago Silva, David Luiz, Marcelo; Luiz Gustavo, Paulinho, Óscar (Hernanes, 73'), Fred, Neymar (Dante, 92') and Hulk (Bernard, 64')
Uruguay, 1: Muslera; Pereira, Lugano, Godín, Cáceres ;Álvaro González (Gargano, 83'), Arévalo, Rodríguez; Cavani, Forlán and Luis Suárez
Goals: 1-0 Fred (40'), 1-1 Cavani (48'), 2-1 Paulinho (85')
Luis Filipe Sclari's Brazil will play in the final of the 2013 Confederations Cup after they defeated Uruguay by 2-1 in the semi-finals of the competition. A goal from Fred on the 40th minute, in addition to Paulinho's goal at the end of the match, saw the Brazilians defeat their Uruguayan counterparts.
Forlán misses, Fred scores
In the opening minutes of the match the men managed by Tabarez were the superior side. Brazil didn't find it comfortable on the pitch and on the 14th minute, David Luiz fouled Lugano in the area. Veteran Diego Forlán took the penalty, but Julio César pulled out an amazing save to deny the Uruguayan.
In the 40th minute, Fred took advantage of a loose ball after an attempt from Neymar to score the opener. The teams went to the break with 1-0 on the scoreboard.
Cavani brings Uruguay level
Uruguay came out swinging in the second half. They were more fluid and it served them to create more chances in front of Julio César's goal. Three minutes after the break, a bad pass from Thiago Silva found its way to Cavani, who quickly slotted the ball into the back of the net.
Paulinho fires Brazil ahead
In the dying minutes of the match, Paulinho got on the end of a corner taken by Neymar. The Brazilian headed the ball past the Uruguayan keeper to establish the definitive 2-1 on the scoreboard. Minutes later, the referee blew the final whistle and Brazil was through to the final.