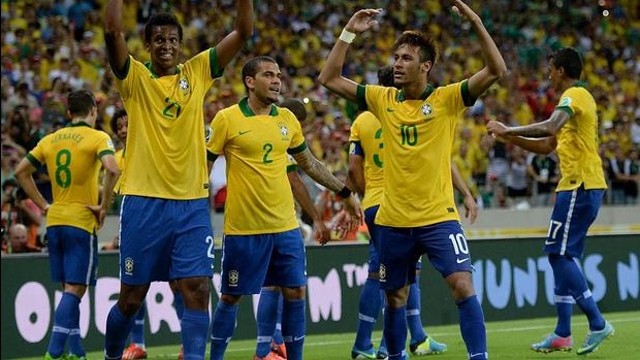 Following a stellar performance against Mexico, with a superb goal and an assist, Neymar is causing furore at the Confederations Cup
Before the game he published a message showing how concerned he is about the situation in his country
Equals Ronaldo and Gerd Müller
His second goal in the Confederations Cup was his 14th of the season for Brazil, thus equalling the record set by Ronaldo Nazario and Gerd Müller
Barça's top new signing, Neymar da Silva, shone again on Wednesday night in his country's second match at the Confederations Cup.
Brazil beat Mexico 2-0, and Neymar not only scored an astonishing opening goal, but also supplied the second following a magnificent zig-zagging run through the Mexican defence capped with a killer pass to Jo.
Neymar was the main man in the Brazil attack from start to finish, displaying a wide variety of different skills and impressing with his breakneck speed, including no fewer than six amazing dribbling runs. The new Barça signing was named man of the match, as he was in his side's first game too, the 3-0 win over Japan.
Glorified in the press
The whole world took note. Italy's 'La Gazzetta dello Sport', for example, used the headline "Another spectacle from Neymar against Mexico", while Portugal's 'A Bola' used the words "Neymar opens the book" to describe the way he laid on the second goal.
In Brazil, the excitement surrounding the team's victory and Neymar's brilliant performance was somewhat overshadowed by the news of protests on the streets of the country's major cities. But the Barça star's face still made it into several front pages, such as 'Correio Braziliense', where the headline proclaimed that "The striker commands the Brazilian fiesta".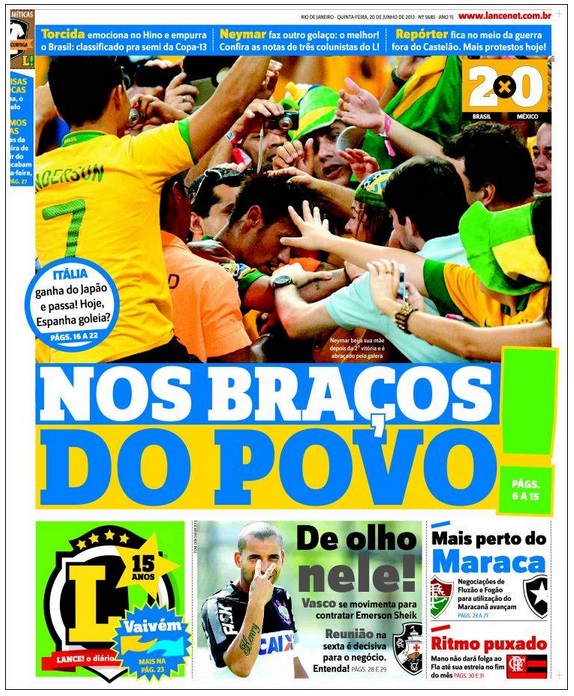 Committed to his country
Before the game with Mexico, Neymar had used social networks to make a statement regarding the troubles. "I feel for everything that is happening in Brazil. I have always had the faith that it would never reach the point where the people have to take to the streets to demand improvements in transport, health, education and security, all of that is the government's obligation…", he said. "I have friends and family that live in Brazil! That's why I want a fairer, safer, healthier and more honest Brazil!"
After the Mexico match, Neymar published another message, but this time a much more joyful one.
Feliz por mais uma vitória, estamos no caminho certo !! Vamo que Vamo Brasiiillll .. http://t.co/z6QpCOba9K

— Neymar Júnior (@Njr92) June 19, 2013