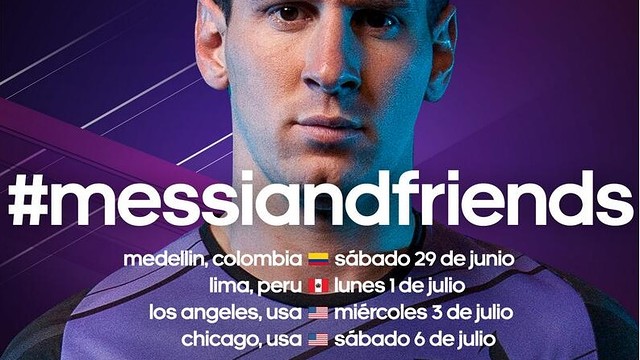 The Barça star will be gathering some of the best players in the world for four charity matches to be played in Medellin, Lima, Los Angeles and Chicago
On Saturday, Leo Messi begins a four-match charity tour in which 'Messi and friends' will be playing 'The rest of the world'. Medellin is the first stop on the tour, where the game will be played at the Atanasio Girardot stadium. The stars appearing include Abidal, Mascherano, Materazzi, Demicheli, Bojan, Kun Agüero and Robinho.
Messi versus Neymar
On Tuesday, the Estadio Nacional in Lima will be the venue for the game billed as the 'Duel of Giants'. In the Peruvian capital, Messi will be sharing a field with future FCB team-mate Neymar, along with Barcelona's Sergio Busquets, Abidal and Mascherano, and other stars of the calibre of Julio César and David Luiz.
On Wednesday July 3 Messi and some of the players that featured in Lima will be appearing again, this time in Los Angeles for third game the of the charity tour. The pick of the world's greatest players will this time include FC Barcelona's Piqué, Pinto, Mascherano, Cesc, Song, Busquets and Abidal, as well as the Dos Santos brothers, Boateng and Lewandowski.
The last stop will be Chicago on July 6, where the line-up will also include the likes of Jordi Alba and Thierry Henry.