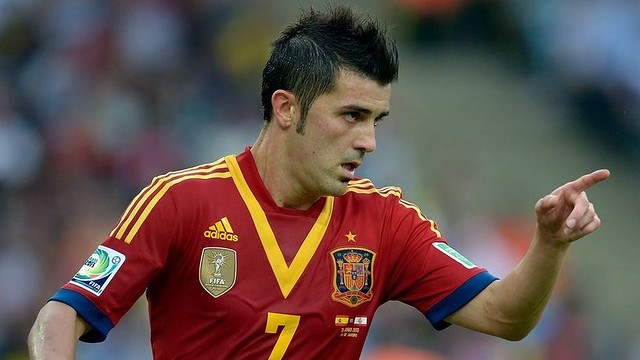 Del Bosque's men cruised to victory at the Maracaná
Villa was the only FC Barcelona player to start while Cesc and Iniesta were brought in near the end of the match
MATCH FACTS
Spain, 10
Tahiti, 0
Spain: Reina, Azpilicueta, Albiol, Ramos (Navas, min 45), Monreal, Javi Martínez, Cazorla (Iniesta, min 76), Silva, Mata (Cesc, min 69), Villa, Torres
Tahiti: Roche, Alvin Tehau (Teanoui Tehau, min 52), Vahirua, Ludivion, Caroine, Bourebare (Lorenzo Tehau, min 69), Vallar, Lemaire (Vera, min 73), Chong Hue, Aitamai, Jonathan Tehau
Goals: 1-0, Torres (min 5); 2-0, Silva (min 31); 3-0, Torres (min 33); 4-0, Villa (min 39); 5-0, Villa (min 49); 6-0, Torres (min 57); 7-0, Villa (min 64); 8-0, Mata (min 66); 9-0, Torres (min 79); 10-0, Silva (min 89)
Referee: Djamel Haimoudi (ALG)
Spain demolished Tahiti in the second round of the Confederations Cup. Four goals from Torres, a hat trick from Villa, two from Silva and another from Mata gave Del Bosque's men the three points at Maracaná. Villa was the only FC Barcelona starter, while Cesc and Iniesta were brought in near the end of the match.
4-0 at the break
After losing 1-6 to Nigeria, many expected Tahiti to concede quite a few goals against Spain. A goal from Torres after only five minutes started Spain on its goalscoring spree. It wasn't until the 31st minute until Spain got its second, thanks to Silva, but before the break Del Bosque's men were already up by four thanks to strikes from Villa and Torres.
Six more in the second half
Tahiti were unable to stop three more goals from Villa and Torres, at this point each striker had a hat trick. Spain's eighth goal was scored by Mata.
Cesc and Iniesta were brought on with 8-0 on the scoreboard. With the two Blaugrana on the pitch Torres, who missed a penalty, scored the 9-0. Silva netted the final goal of the match after a cross from Navas.