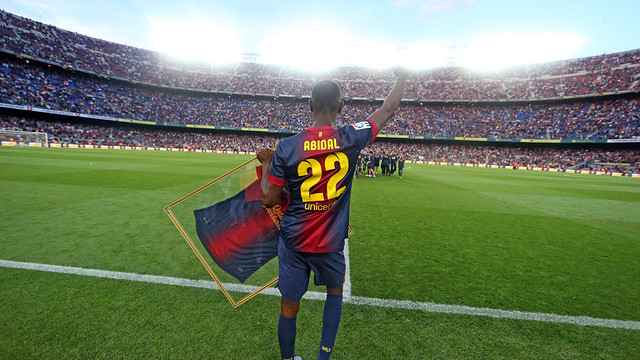 Club members, fans, and team-mates paid tribute to Abidal in his final match as an FC Barcelona player

Éric Abidal said goodbye to FC Barcelona after six years of loyal service to the Club. The French player bid adieu to the fans, first by playing the final 15 minutes of the match against Málaga, and then during the Club's tribute to him and his service after the match. The 65,727 fans at the Camp Nou didn't leave their seats when the referee blew the final whistle as they wanted to give Abidal the sendoff he deserved.
Donning a shirt with 'Merci Abi 22' on the front, the team waited for Abidal to come out onto the pitch. Abidal, accompanied by his daughters – who also wore shirts that read 'Merci Papi 22' –, his wife, and cousin, made his way to the middle of the field.
Team captains Carles Puyol and Xavi Hernández gave Abidal a framed Barça kit the read 'Meri Abi' on behalf of the player's "second family," a term the Frenchman uses to refer to his team-mates.
Words of gratitude
Abidal didn't want to leave without saying goodbye to the fans: "My family and I want to thank you for all the support you have shown me over the years, it has been spectacular. Thank you Catalans, you are part of my family." He then addressed his team-mates: "without you I would have won nothing. You are the best." He went on to declare his love for the Club and for the fans: "I will always carry you in my heart. Visca el Barça and visca Catalunya!"[[CITA_1]]
The Frenchman also had special words for his cousin, Gerard. "I promised someone that I would take him to the middle of the pitch so that he could be recognised with a standing ovation. He deserves your applause more than I do." He then gifted his cousin with a Barça kit that read 'Merci Gerard 13.'
Abidal left the Camp Nou accompanied by his team-mates, who formed a guard of honour as he exited the pitch. It was a guard of honour from the champions of La Liga to a man who has overcome seemingly insurmountable odds. Abidal couldn't contain himself, and after the gesture from his team-mates, he ran back out onto the pitch and gave his boots and kit to the Camp Nou faithful.
Merci, Abi.
My family and I want to thank you for all the support you have shown me over the years, it has been spectacular. Thank you Catalans, you are part of my family