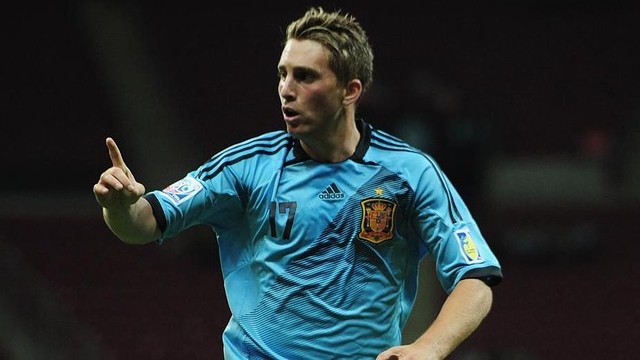 Spain defeated the United States by 4-1 this evening in their opening match of the U20 World Cup
The FC Barcelona player scored a brace
MATCH FACTS
Spain, 4
USA, 1

Spain: Sotres, Manquillo, Derik (Llorente, min 74), Puerto, Campana (Ruben, min 70), Suso, Jesé (Paco Alcacer, min 76), Bernat, Saul, Oliver, Deulofeu
USA: Cropper, Yedlin, Ocegueda, Stanko, Trapp, Joya, Gil, Villarreal (Lopez Jr, min 72), Torre, Garcia (Cuevas, min 56), Hernández (Rodríguez, min 46)
Goals: 1-0, Jesé (min 5); 2-0, Deulofeu (min 40); 3-0, Jesé (min 43); 4-0, Deulofeu (min 60); 4-1, Luis Gil (min 77)
Referee: Bakary GASSAMA (GAM)
Spain kicked off its U20 World Cup campaign with a convincing 4-1 victory over the United States. Jesé (2) and Deuofeu (2) both scored for Julen Lopetegui's side.
3-0 at the break
The first goal was scored quickly. On the 5th minute, after a fantastic cross from Deulofeu on the right, Jesé one-touched the ball to the back of the net. Spain dominated the pace of the game, they created chances and they made Cropper's job of keeping out the goals difficult.
The second goal was scored on the 40th minute after an extraordinary play from Deulofeu. The player nailed a curling shot from outside the area to give his team a 2-0 lead. Three minutes later Jesé scored to leave Spain three goals ahead of the United States before the break.
Deulofeu bags a brace
The United States tried to fight back in the second half but a goal from Deulofeu put the game beyond reach for the Americans. USA managed to pull one back on 77 minutes when Luis Gil curled the ball past the Spain keeper for the definitive 4-1 scoreline.