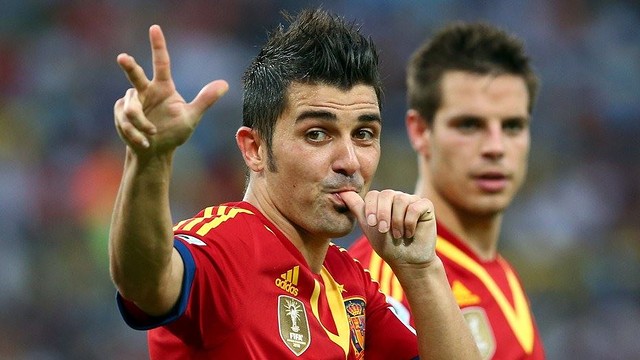 Neymar and Villa, with three, Jordi Alba, with two, and Pedro, with one, have helped to make Barça the top scoring club in the competition going on at the moment in Brazil
Neymar has not only impressed with his goalscoring, but is also the player that has shot the most times
Three Barça players, Alves, Iniesta and Xavi, have made the most passes in the group stages
FC Barcelona is the top scoring club at the Confederations Cup in Brazil. During the first phase, Neymar, Villa, Jordi Alba and Pedro scored nine goals between them. The second club in the list is Chelsea, who have seven goals thanks to Fernando Torres, Juan Mata and John Obi Mikel.
Neymar scored a goal in each of Brazil's first three matches, against Japan, Mexico and Italy. It was the new Barça signing who also made the most solo runs into the area during the groups stages (19), and also who made the most attempts on goal – nine, of which six were on target.
Villa also has three goals thanks to his hat trick against Tahiti, although the top goalscorer in the tournament at the moment is Chelsea's Fernando Torres (5). Barça's other goalscorers in Brazil have been Jordi Alba, with two against Nigeria, and Pedro, who scored in Spain's opening match against Uruguay.
Passing in style
It is common these days for FC Barcelona players to top the lists in terms of passing, and the Confederations Cup is no exception. In fact, the top three passers are all FCB players. Dani Alves, the only Barça payer to have played every minute so far, is top with 248 passes, 204 of which have been completed. He's followed by Andrés Iniesta with 196, of which 218 were good, and Xavi Hernández, with 194 completed passes out of 168.