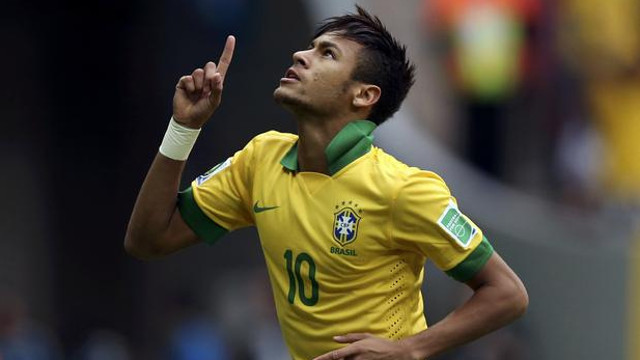 Brazil beat Italy 4-2 in the final group A game of the Confed Cup, with Barça's new striker getting his third goal in three games.
Box Score
BRAzIL, 4
ITALY, 2
Brazil: Julio César, Alves, Thiago Silva, David Luiz, Marcelo, Luiz Gustavo, Hernanes, Oscar, Hulk, Neymar and Fred.
Italy: Buffon, Abate, Bonucci, Chiellini, De Sciglio, Aquilani, Montolivo, Candreva, Marchisio, Diamanti and Balotelli.
Goals: 1-0 Dante (min 45), 1-1 Giaccherini (min 51), 2-1 Neymar (min 55), 3-1 Fred (min 66), 3-2 Chiellini (min 70), 4-2 Fred (min 88).
With Dani Alves and Neymar da Silva both starring, Brazil finished top of their group in the Confederations Cup following a 4-2 win over Italy – which featured the new Barça striker's third goal of the tournament – a brilliantly hit free kick for the hosts' second goal.
Injuries mar first half before the goals begin
Brazil looked strong from the start, but Italy were able to keep them out of their area in a first half marked by three injuries – David Luiz for Brazil, and Abate and Montolivo from Italy. Fittingly, it was the Brazilian sub Dante who got the opener before the break.
The second half was a much less cagey affair, full of chances and quality goals. First Balotelli brilliantly set up Giaccherini for the equaliser, then Neymar and Fred hit two spectacular goals to give what looked like an unassailable lead when Scolari decided to bring Neymar off on 68 minutes to a standing ovation.
However, the Italians then struck back with a third as Chiellini put away Aquilani's assist and nearly drew level when Maggio's header rattled the woodwork before Fred calmed the home crowd's nerves with a late goal to ensure Brazil's third straight win of the tournament